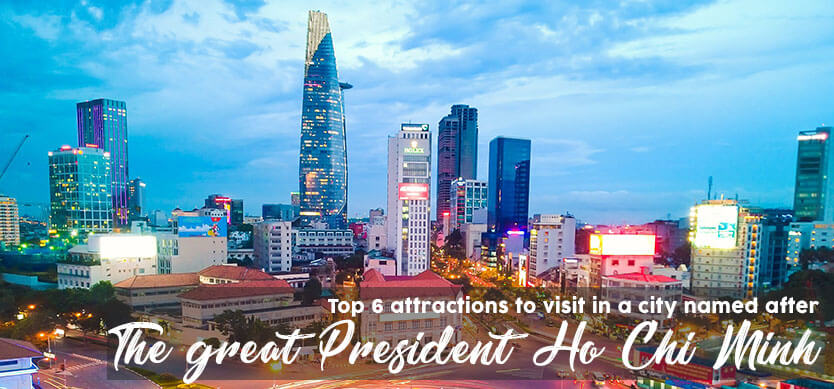 Top 6 attractions in a city named after the great President Ho Chi Minh (Editor's choice)
Ho Chi Minh city, or Saigon city is an attractive destination not only for tourists by many famous places such as Notre Dame Cathedral, Reunification Palace, etc but also for the young to enjoy because of several stylish and attractive amusement centers and shopping malls. In the article, Asiapackagetravel will offer you some guides in one of the most dynamic cities in Vietnam.
"Sitting coffee" - Notre Dame Cathedral - Central Post Office
Located in the heart of the city, in the left of Notre Dame Cathedral, in the green park with the vast umbrage, the "sitting coffee" area is one of the favorite places to visit in Ho Chi Minh of young people. Choosing the right seats where have shade and wide views, taking an old newspaper to the ground to sit, tourists can enjoy a cup of ice milk coffee without any store.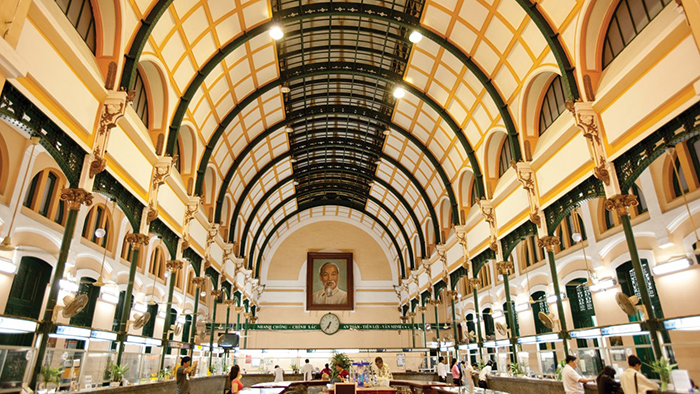 ​
Inside the Central Post Office (vnfine.com)
Notre Dame Cathedral is a famous destination in Saigon, appreciated as a cultural and spiritual work with the initially architectural features of the Eastern and Western combination. The interiors with multi-colored glass shaping many images in Eastern culture shows an inclination to integrate a basic Western-style building into the oriental style.
Saigon Central Post Office is a building built by the French in about five years from 1886 to 1891. It is one of the typical buildings in Ho Chi Minh city that has a Western architectural style combining with oriental decoration. The Post Office is situated at Paris Commune Square, District 1.
Bitexco building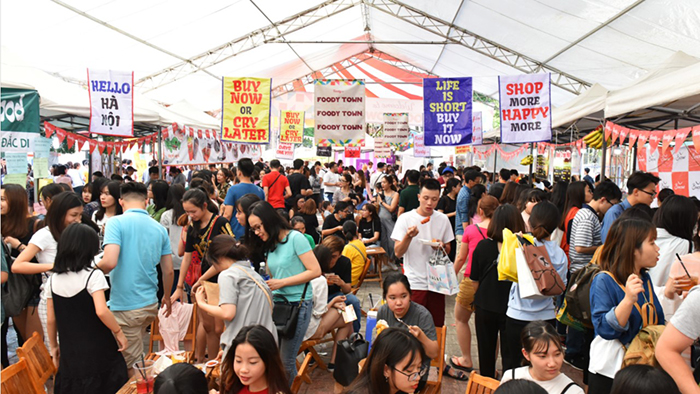 A bustling scene in Hello Weekend Market (news.zing.vn)
Bitexco building of Saigon is a famous spot of people to eat and admire the Saigon scene from above. The 49th floor of Saigon's tallest building is the perfect place to enjoy the panoramic view of the city. A date in here will be very romantic as a Korean movie. From a height of 178 meters, tourists will see a sparkling and beautiful Saigon beyond imagination. Currently, the price for sightseeing is VND 200,000/person/visit and guests are free to use the telescope there.
Saigon Outcast
A very special place to see in Ho Chi Minh weekend is Saigon Outcast - a unique container area. This is a unique space for those who love art, street sports or simply want to assert themselves. This is a land area of 860 square meters in the middle of the buildings and villas near Saigon river banks. In Saigon Outcast, three containers are stacked on each other and decorated into three rooms with glass doors, tables, chairs, and stoves, etc with full of functionality.
Bui Vien street - Nguyen Hue street
If Hanoi has Ta Hien street, Saigon also has Bui Vien street. Bui Vien is the most crowded street of foreigners in Saigon and it almost doesn't "sleep". The street offers travelers with various things to do in Ho Chi Minh visit the pubs to eat and drink at a reasonable price, gather, and dine out with friends. This is a characteristic of Saigon that everyone should try once.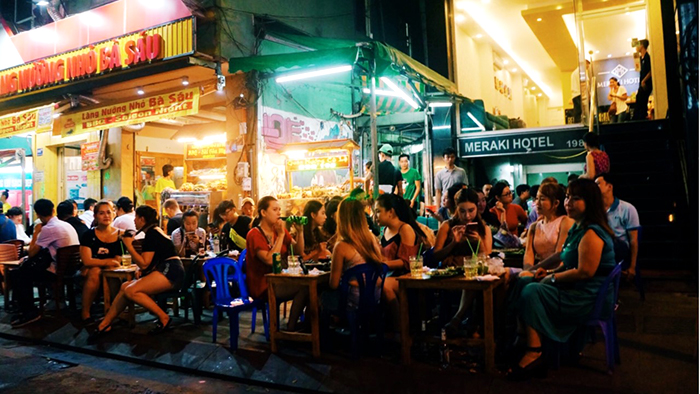 Bui Vien street is the familiar destination of foreigners in Saigon (vietnammoi.vn)
Another street can't be missed out in the list of places to visit in Ho Chi Minh is Nguyen Hue walking street. This is a destination for young people in Ho Chi Minh city to take part in many activities like skateboarding and roller skating, enjoy the music and dance of many street groups, weekly musical programs, or sit in the luxury coffee shops overlooking the streets from above, etc.
Sai Gon Garden
Saigon Garden is a fun Ho Chi Minh place to visit and play with a unique and fancy design. The whole houses in the Garden are covered with trees from the ground up to the top to make a difference compared to shops and restaurants around it.
Especially, when going inside, visitors are extremely overwhelmed by the space in European style with restaurants, flower shops, clothing shops, coffee shops, etc right on Nguyen Hue street, bringing the diverse experience for you.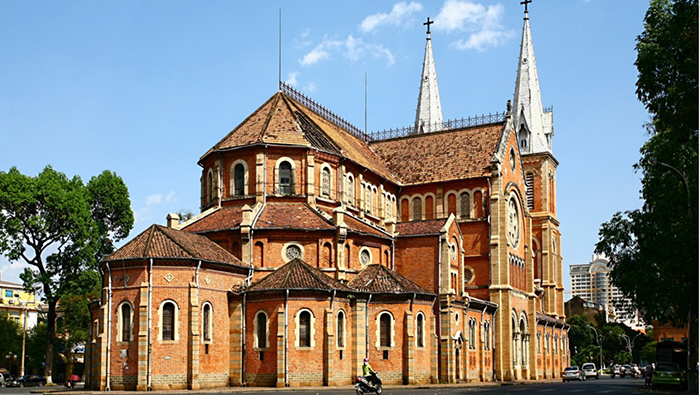 One side of the Notre Dame Cathedral
Hello Weekend Market - The New Playground - Zone 87
As its name, Hello Weekend Market is a fair that takes place every weekend. This place is visited by a lot of young Saigon people. Coming to Hello Weekend Market, tourists have the opportunity to experience and explore the fashion booths at reasonable prices and catch up with the current trend of youth.
What to see in Ho Chi Minh city is no longer your concern when you have The New Playground - an underground shopping center right in the heart of District 1. This is preferred by many young people by the attraction of a series of famous fashion brands in Vietnam. Especially, for those who like to check in the "virtual life", The New Playground is a very ideal place to see in Ho Chi Minh. Besides, this is not only a shopping place but also space for people to express the creativity and passion of youth.
Located in the heart of District 1, on Nguyen Hue walking street, Zone 87 is a complex including many famous shopping and dining stores in Saigon. In here, travelers can comfortably shop and enjoy the unique, familiar dishes in Saigon such as noodles, "pho", "hu tieu" (a kind of noodles popular in the South), rice with ribs, frog porridge, and barbecues processed in place which are extremely attractive.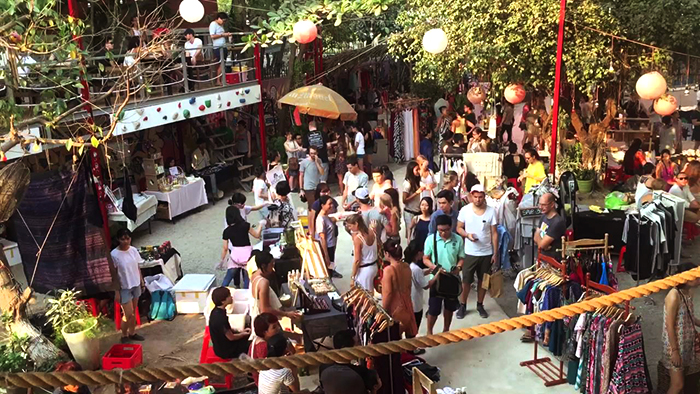 Saigon Outcast (youtube.com)
With several attractive Ho Chi Minh places to visit, the city brings in itself a hectic, young yet rustic breath. If our guide is useful for your Asia vacation tour packages, don't hesitate to like and share with others. Thank you.