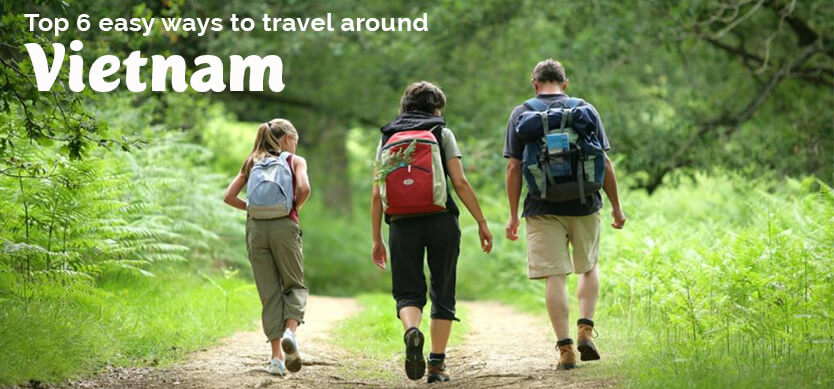 Once you arrive in Vietnam, the transport problem is an important thing to consider whether which form of transportation is the most suitable for your trip and the price of it is cheap or not. Catching your wonders, here we recommend to you top 6 common ways to travel around Vietnam to soothe your mind now.
Taxi
Taxi in Vietnam is unbelievably cheap compared to the other countries. Especially when you have children traveling with you, catching a taxi will be the best option for traveling in a short distance.
It is better for you to choose the big taxi brands to avoid being ripped off such as Vinasun or Mai Linh. You won't worry about the price because they use meters every time. You can choose to get in the smaller taxi brands but you have to make sure that they also use meters for price calculation. Downloading the taxi apps because you can use GPS to track where you are, or how long the driver will come to pick you up in case you are getting a gap in communication.
But for traveling longer distances, the below options are even more cost effective.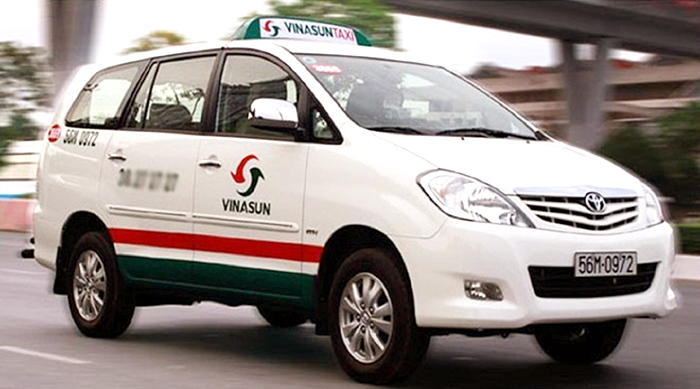 Taxi (via news.zing.vn)
Bus
An option for you to travel in Vietnam in the farther distance is catching a shuttle bus. There are many bus companies operating in Vietnam which bring you to every corner of the country. Yet, we recommend you to use the service of SinhTourist who have sleeper buses (reclining seats) so you can relax and take a nap. Besides that, it only takes you to all over Vietnam but also loads you to Cambodia (from Ho Chi Minh City) with a very cheap price.
Only travel by bus during the day, it is very unsafe when you get on the night bus route because of the rough roads, construction work and drivers pushing past their limits. If you want to travel at night, let's consider the next option.
Train
Traveling by train is another quick and cheap way to travel around Vietnam. There is a north-south train running from Ho Chi Minh City to Hanoi, you can stop at any train stations on the way, so it's an ideal option for you to have a trip along the length of Vietnam.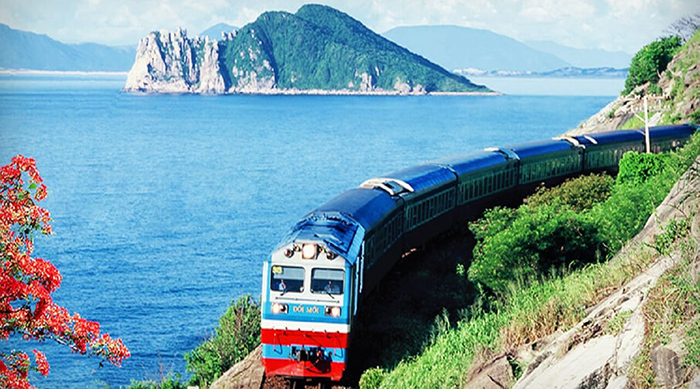 The north-south train (via dingay.com)
Catching a night train is a great way to save money when you travel in a long distance. However, let's consider the comfortable 4-berth soft sleeper cabins if your group have 3-4 people, you will have a whole cabin to yourself. If there are 3 people in your group, it is better to buy the 4-berth soft sleeper cabins, it's cheap and you will have a blank room to stow your luggage.
In contrast to the soft sleeper cabins, if you buy the hard sleeper tickets, you really want to buy 6 seats for your own self. Because the bed is quite narrow and you have to stay with the strangers that will make you uncomfortable.
The overnight train travel is much safer than the bus, so if you want to travel overnight, we strongly recommend you to use the train service to travel.
Plane
Choosing to travel by plane, your trip will be very easy and safe as long as you have to book the ticket a few days in advance. Normally the airplane ticket is often as low as $25 a seat.
If you travel from Ho Chi Minh City to Hanoi, it would be a wise choice to get a flight, especially when you have young children. When you get on the plane, you will miss so much epic scenery but it is worth to exchange. All the kids (aged 2.5, 10, and 13) love the plane, where they can stand between the clouds and sky. It is such a huge surprise for them.
You can come to the big airplane brands in Vietnam such as Jetstar Asia, Air Asia, VietJet Air or Vietnam Airlines to have a safe flight.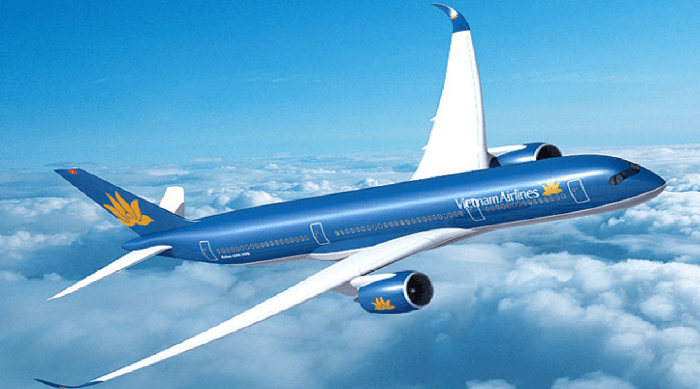 A flight of Vietnam Airlines (via vtv.vn)
Cyclo
Cyclo is the unique transport form in Vietnam that it has a seat on the front and the driver pedals on the back.
It is the best choice for tourists who want to wander around the Vietnam streets, catching a cyclo to see the vibrant nightlife of Vietnam. However, it is better to book a reliable and trustworthy cyclo driver through your hotel or tour company to make sure you have a safe and enjoyable trip.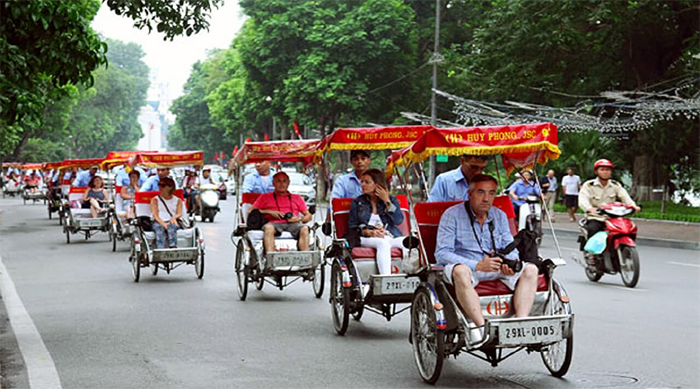 Cyclo (via hanoimoi.com.vn)
Boat
Vietnam is a country of sea and rivers, so it is not strange to see a wide range of water transports operating on the Vietnam tours from dragon boats to cruises on a junk.
Why don't you arrange your luggage and visit Vietnam right now? This beloved country is willing to welcome you by its own warm heart. We hope that this post will be a motivation of yours to come to Vietnam. If you have any questions or need further information about Vietnam transportations, please contact us. Thank you!