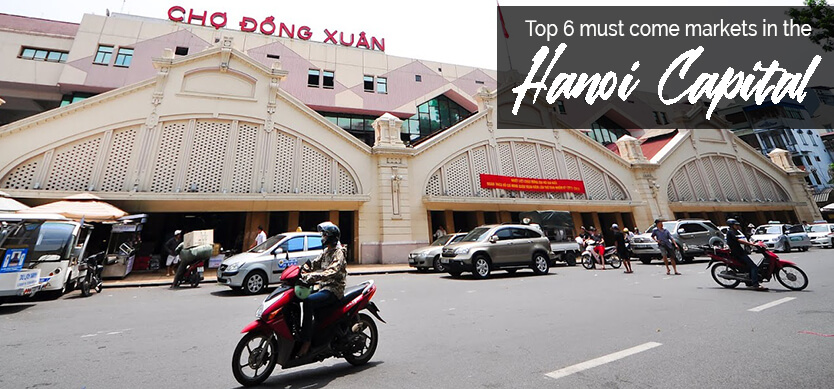 Hanoi Capital - the heart of Vietnam is home to many interesting things that you should travel once to explore from the diverse culture, the beautiful tourist attractions to the stunning cuisine. If you choose Hanoi for your upcoming tours package to Vietnam, do not miss these markets below.
Dong Xuan Market
When one talks about Hanoi markets, it's deficient if we don't mention Dong Xuan Market - the most famous one in Vietnam. The market is a building with 5 doors that covers an area of over 6,500 square meters. This wholesale market is well-known for many goods such as fabric, candy, stationery, and other materials.
Coming here, you can see many stores in different colors. It is also one of the most attractive destinations for international tourists in Hanoi. Recently, the market opens the night fair on Friday, Saturday, and Sunday where you can choose items as the souvenirs. It is situated in the Hanoi Old Quarter so you can visit here at any time of the day.
Long Bien Market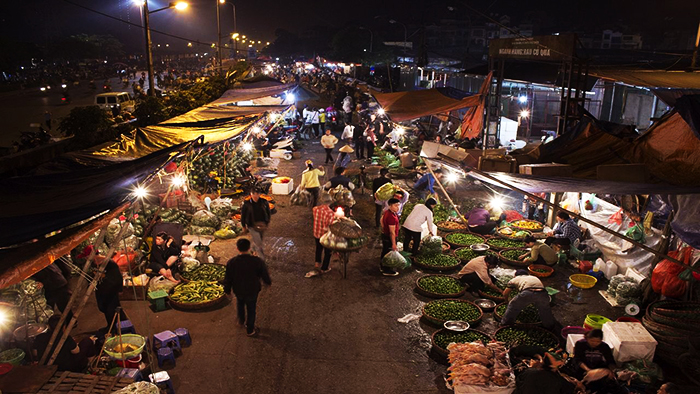 Long Bien Market
Long Bien market is one of the most famous and crowded markets in Hanoi. It is also considered as a major night market in Hanoi providing goods such as fruits and fresh food for the inner city and neighboring area. All sellers here bring the freshest products to ensure the best quality ones. It was voted as one of the 7 most interesting markets in the world by the reputable Conde Nast Traveler magazine. For every resident in Hanoi, Long Bien Market is one of the most unique and vibrant local cultures of Vietnamese people.
Quang Ba Flower Market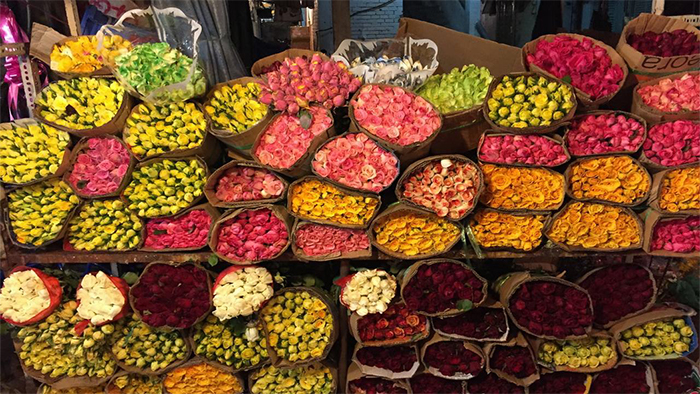 Quang Ba Flower market
Located in Nghi Tam, Tay Ho district, Quang Ba Market is the most famous flower market in Hanoi. The market often opens from 11 pm to the early morning. The flowers here are delivered from the neighboring area such as Dong Anh, Tay Tuu, and Gia Lam. You will be fascinated with the stalls full of species and colors. Besides popular flowers such as rose, lily, and daisy, you can also see import ones like tulips and chamelaucium. The most crowded time is from 1 am to 2 am. You will see a very different Hanoi. When the city is sleeping, Quang Ba flower market is very busy and bustling.
Hom Market
Being one of the most popular markets in Hanoi, Hom Market is the place where you can buy anything. This is considered a shopping paradise with separated areas. The meat and vegetable areas are very crowded during peak hours. There are also goods such as shoes, bags, and fabric sold here.
Nghia Tan Market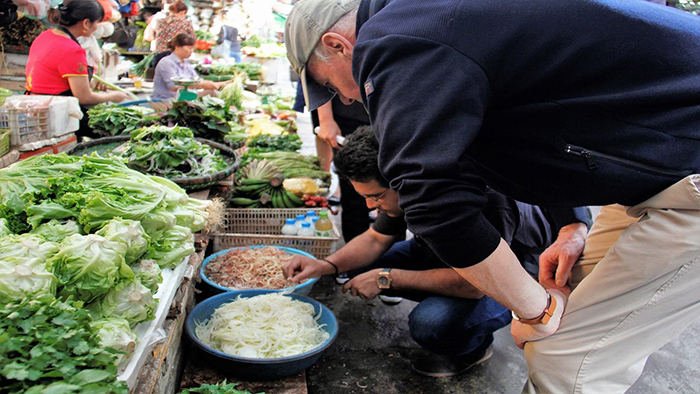 Nghia Tan Market
Nghia Tan Market is one of the well-known food markets in Hanoi. Coming to this place, you can try a lot of cheap snacks in Hanoi for typical foods of each season. If you visit here in the summer, you can enjoy the cool dishes, Saigon sweet desserts, many kinds of tea, fresh drinks and fruit. The most famous food here is the delicious pan-fried bread. The busy time of the market is from noon to the evening when you can buy a lot of attractive dishes.
Night Market in Hanoi Old Quarter
The Night Market in Hanoi Old Quarter is one of the best places to see in Hanoi which attracts a lot of domestic and international tourists. The market runs along Hang Dao Street, the gate of Dong Xuan market to Hang Khoai Street and Hang Giay Street. This market is famous for all kinds of items from clothing, jewelry, pretties, and handicrafts at very affordable prices. The market only opens on Friday, Saturday and Sunday night. Coming here, you can not only shop, sightsee but also enjoy the delicious dishes such as sweet desserts, noodles or sticky rice.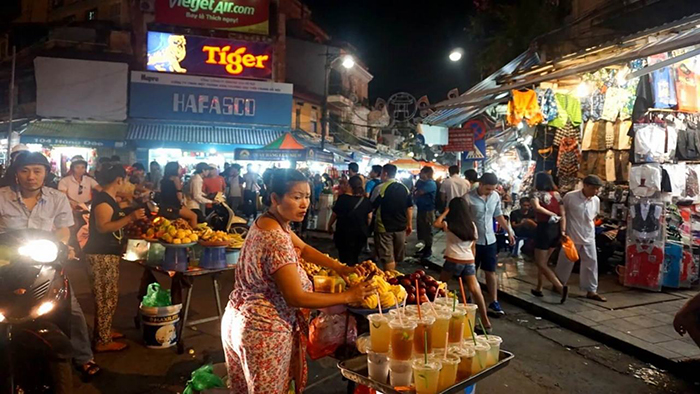 Night market in Hanoi Old Quarter
Bat Trang Pottery Market
Bat Trang pottery village is famous for its traditional career with a long history. Guests who come to the capital always want to buy pottery from Bat Trang to make gifts, pretties or household items. Therefore, when visiting Bat Trang, you cannot ignore the pottery market in the village, a center for buying products made by artisans of the village; from vases, bowls, flowerpots, warm, bracelet, ceramic buckle hooks in a variety of models with affordable prices.
Not only see the goods, but visitors also have a chance to listen to the introduction of the production steps of the sample, how to draw patterns and color combinations. This is also the way Bat Trang artists keep and spread the beauty of the village.
With the long history and diverse culture, Hanoi is definitely the place that you should not miss in Vietnam. Besides the top markets that we've suggested above, there are also many things to do in Hanoi waiting for you. To know more about that, you can visit our website. Like and share this article if you find it interesting. Thank you!