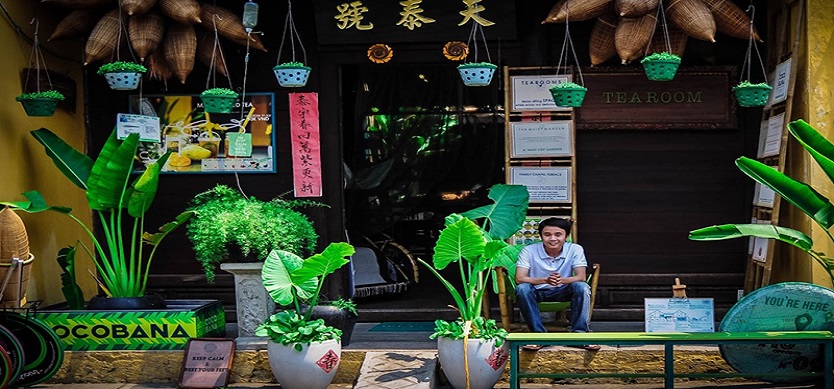 Top 7 featured drink shops you shouldn't miss in Hoi An ancient town (Editor's choice)
Hoi An is a small town, but its cuisine is extremely diverse. Let's go to the beautiful Hoi An with the most attractive coffee shops that every tourist should visit once.
Cocobana
Address: 16 Nguyen Thai Hoc
Cocobana is one of the new "bright spots" on the map of the best restaurants Vietnam in Hoi An. A small corner of harmony between the most rustic things of tradition with bamboo ladder or cone leaves, combined with the creative and colorful furniture - all make a brilliant comprehension but still very dear and delicate, hiding full of surprises in every corner. In Cocobana, tourists will go through a paper-making area, a small garden with a fish tank to the tea room. In here, they can let themselves immerse in the new interesting things around, read book, or take a photo because all the corners are very beautiful.
Mot Hoi An
Address: 150 Tran Phu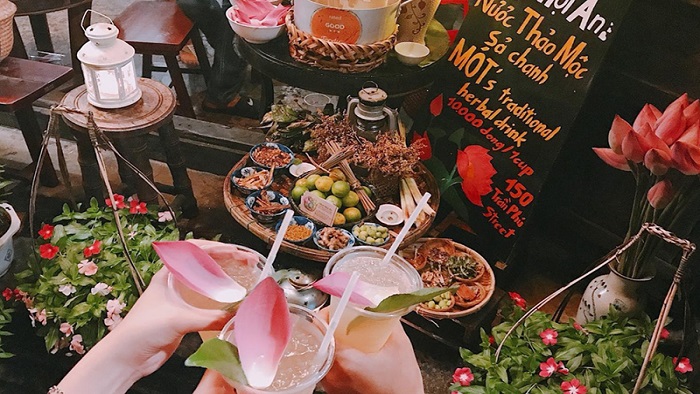 Herbal tea in Mot Hoi An is very suitable for tourists on a hot summer day
Actually, Mot Hoi An is not a coffee shop but a sidewalk stall on Tran Phu street. Mot Hoi An does only opens from mid afternoon to night, so if tourists have chance to Hoi An, remember to stop by this tea shop, because it is very special and unique, making everyone remember forever.
Despite of being just a sidewalk stall, it is decorated with all kinds of flowers and fresh fruits, dishes with beautiful and delicate patterns. Furthermore, the kinds of drink here are also unique with all kinds of fragrant herbs and lotus petals, suitable to enjoy on the hot summer day.
Cocobox
Address: 94 Le Loi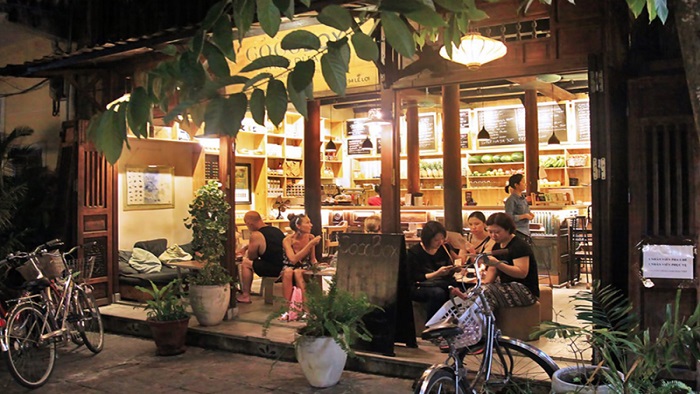 The coffee shop attracts a lot of visitors to Hoi An
Unlike Cocobana which is a "new star", Cocobox has been favored by people for years. In Cocobox, travelers will find spices or "specialties" made from local ingredients in many different regions such as Phu Quoc salt, pollen, jams, or the famous chocolate Marou 100% made in Vietnam.
In addition, Cocobox has a very nice menu of attractive drinks, coffee, and delicious desserts that "stick" coconut fiber. Space in Cocobox is a harmonious combination between simplicity and modernity which is definitely airy.
The Chef
Address: 166 Tran Phu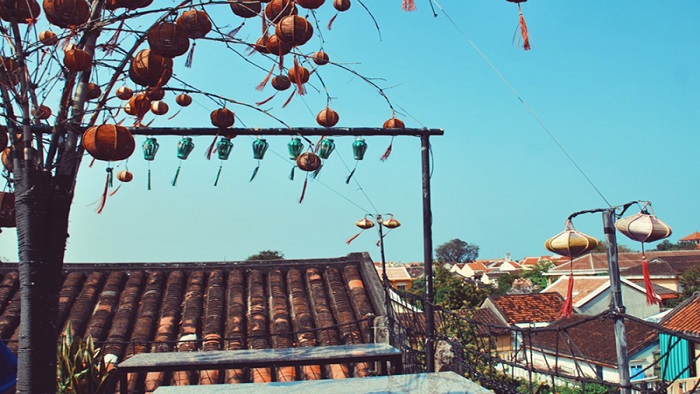 An airy space in The Chef (vietnammoi.vn)
In fact, The Chef has no ornate decor or something like that, but the best thing when coming here must be the rooftop in a late afternoon. The terrace is decorated by The Chef with lanterns, glittering lunar New Year poles. From here travelers can overlook the panoramic view of Hoi An with flat and yellow tile roofs in the sunlight. Besides, The Chef also has a great menu with dishes that are highly appreciated by visitors on many tourist forums.
Cargo Club
Address: 107D Nguyen Thai Hoc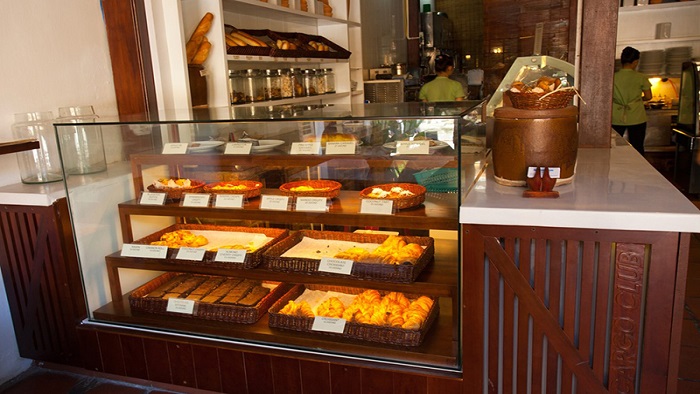 The diverse menu in Cargo Club Hoi An
Just opened few years ago, Cargo Club is extremely popular in Hoi An, especially for foreign tourists. It is simply because that Cargo is beautiful, full of best food in Vietnam and a list of sweet food at reasonable prices.
Cargo is spacious, bright white, and it is decorated in a simple, gentle way with airy space. There is a long list of cake and ice-cream that tourists should try, especially baby pavlova cake and sorbet ice-cream. In addition, the menu of Cargo savory dishes is also very noticeable.
Le Fê Cafétéria
Address: 69/3 Phan Chu Trinh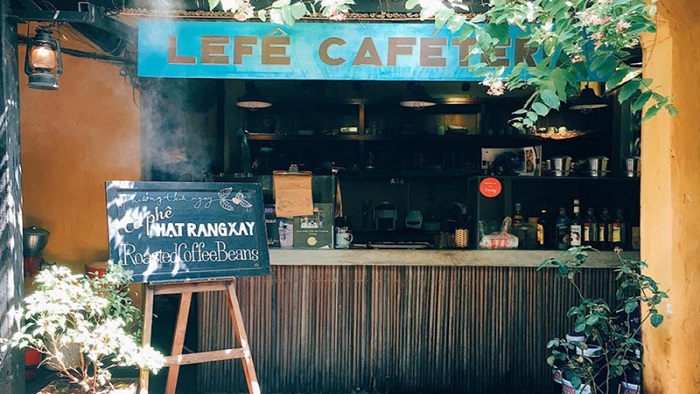 Le Fê Cafétéria in Hoi An (instagram.com)
Situated between a small alleyway in Hoi An old town, Le Fê Cafétéria is a coffee shop in old style with sofa, old phone, music player, etc, all brings a colour of time. Le Fê Cafétéria usually played Trinh music (Trinh Cong Son - a famous musician of light music), ballads, and old discs from the 70s and 80s, so the space here is very deep. Occasionally, in the weekend, there is also live music in the shop. The menu of the coffee shop is quite simple, in return, the price is very reasonable.
Reaching Out
Address: 131 Tran Phu
Reaching Out is a traditional tea house like the old Vietnamese style with "sap gu" (the wooden bed usually used as the seating area of ancient Vietnamese people), tea cupboards, fragrant wood tables, and a bronze vase of lotus or daisy. Space in Reaching Out is elegant, simple and always fragrant with aromatic tea smell. Another highlight of Reaching Out is that the place is truly a paradise of tranquility. Employees at Reaching Out are deaf or mute, so tourists communicate with them through the wooden cards.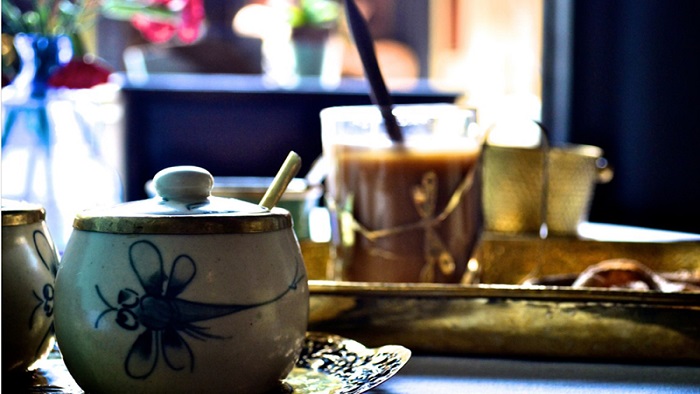 Vietnamese cuisine in Reaching Out tea house (pinterest.com)
Reaching Out menu also reminds guests of an old-fashioned tea shop. Don't look for English Breakfast or Earl Gray because the shop does not supply them. Instead, Vietnamese green tea and black tea become the highlight here, bringing a different side of Vietnamese tea. Moreover, Reaching Out also has biscuits or fruit preserves to eat with the bitter flavor of tea.
Coffee shops or tea shops in Hoi An always bring in themselves a distinct feature that is a harmonious combination of modern style and taciturn space. If you're planning to visit Hoi An in the Asia package tours, don't forget to visit these attractions to save the best memory in the peaceful old town and share this with your friends. Thank you.