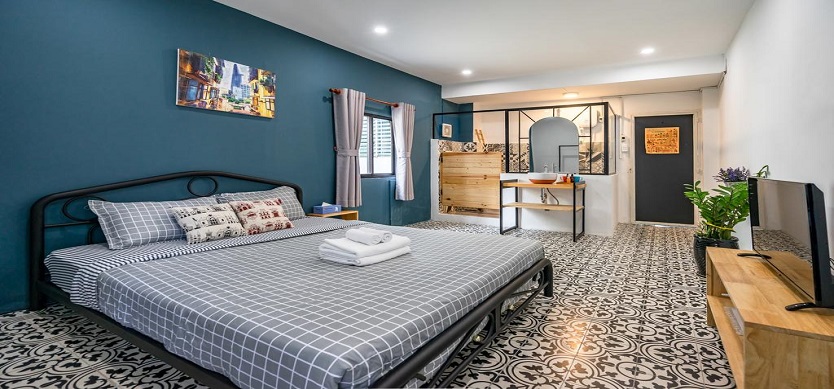 When mentioning homestays in Vietnam, people often think about Dalat. However, in Ho Chi Minh City apart from luxurious hotels, there are numerous beautiful and comfortable homestays that you cannot miss when taking Vietnam cheap tours.
The Common Room Project
Address: 80/8 Nguyen Trai, District 5, Ho Chi Minh City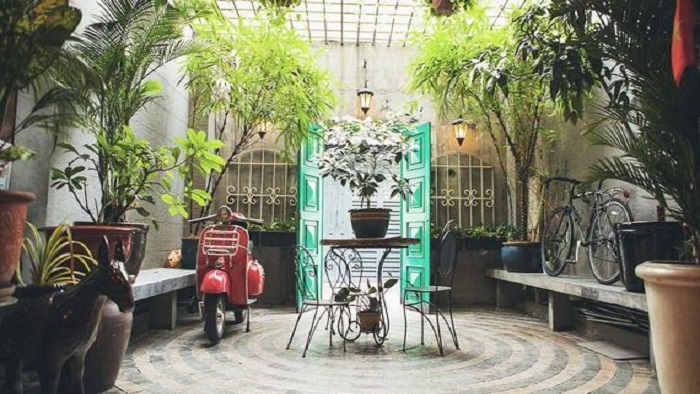 The Common Room Project
The Common Room Project is about 2 kilometers from Tao Dan Park and the Art Museum, so it is very convenient to get to tourist attractions. It's not a hotel or common accommodation but a right homestay like your home. There are for dorms with 48 beds and 4 private rooms. Each dorm is equipped with comfy mattresses, large-fluffy pillows, sheets & duvets, and universal plugs. The homestay caters for both meat lovers and vegetarians. The highlight of The Common Room Project is the rooftop bar that serves until 12 pm.
OTRO Homestay
Address: 16 Pham Viet Chanh Street, Ward 19, Binh Thanh District, Ho Chi Minh City
OTRO Homestay
OTRO Homestay is a familiar place for the young in Saigon in recent years. At the first look, you will be amazed at the very impressive design. Items such as tables, chairs, cups, and showcases exemplify the beauty and simplicity as if you were in the house in the 1980s from the colorful paper walls, the pillows, and the sedge mat. The old gray wooden table with simple household items such as porcelain cups, betel nuts, and colorful vase make this homestay as the house of noblemen. The dining room is mainly featured with wooden furniture, colorful walls with vivid puzzle pieces and eye-catching lanterns on the ceiling which can make your meal more wonderful.
Lela Saigon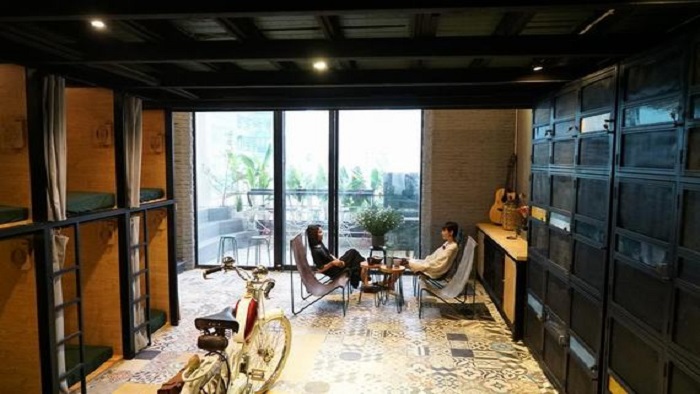 Lela Saigon
Address: the 4th floor, Apartment 26 Ly Tu Trong, District 1, Ho Chi Minh City
Lela is a homestay which accommodates 8 single beds and 4 double beds. Each bed is well-equipped with safety lock, clothing hook, lamp, curtains, and pillows. Each guest coming here has their own a larger locker and a shoe cabinet. Each room is featured with a kettle, private bathroom with slippers, free toiletries, and a hairdryer, and free Wi-fi. The homestay has also a kitchen.
Lela Saigon is conveniently located in the heart of District 1, about 1 kilometer from Vincom Shopping Center and 7 kilometers from Tan Son Nhat International Airport – an ideal place to stay and explore famous attractions in Ho Chi Minh City.
Vintage Hostel Saigon
Address: 80 Bui Vien, District 1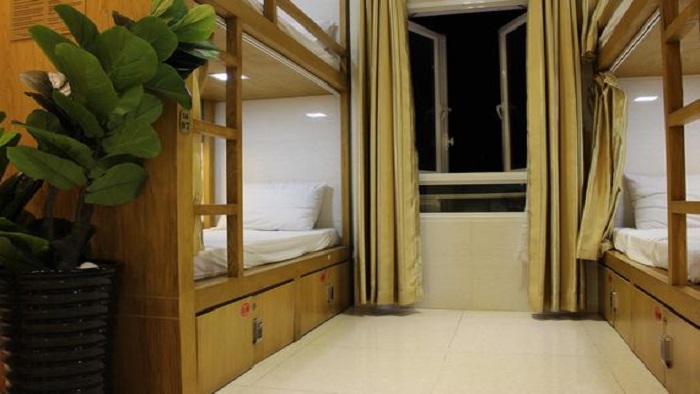 Vintage Hostel Saigon
Vintage Hostel Saigon is situated on Bui Vien Street – the busiest street for backpackers in Ho Chi Minh City. The hostel offers 2 types of room: 8-dorm bedrooms and private rooms with maximum 3 beds. The amenities are included personal key-card lockers, well-equipped shared bathroom on each floor and free internet access. The Street Pub is the place where you can enjoy happy hours, beers and BBQ in a fantastic ambiance. The room rate ranges from 180,000 VND per night including breakfast (noodles, fried eggs or fresh fruits).
The Laban
Address: 23 Bui Thi Xuan, District 1
Located right in Saigon center but The Laban brings a romantic and peaceful space because of the design as dreaming Dalat. All rooms have large windows and a balcony. The best room in The Laban is the penthouse which consists of a living room, a double bedroom, and a terrace. The upstairs has a mezzanine with an extra double bed leading to the back garden. In addition, The Laban has a large double room for 2 people and separate dorm room for men and women. The Laban's mezzanine is the place for drinking and also has acoustic sessions at the weekend.
Della Boutique Hotel
Address: 67 Ham Nghi, Nguyen Thai Binh, District 1
Della Boutique Hotel
Despite the convenient location, the room rate at Della Boutique Hotel just ranges from 315,000 VND per night. It's only about 10-minute walk to popular spots in Ho Chi Minh City such as Bitexco Building, Nguyen Hue Walking Street or Takashimaya Shopping Center. ZUMA – the rooftop bar is an ideal place to see the sparkling nightlife of Saigon.
Designed in the Western style, Della Boutique brings you the absolutely comfortable and cozy space. The rooms here are divided into two main categories: the dorm (shared room) and the suite (separate room).
Thanks to excellent rooms, friendly staff and convenient, Dell Boutique is always the top priority for travelers coming to Ho Chi Minh City.
4221 Café & Homestay
Address: 157 Nguyen Dinh Chinh, Ward 11, Phu Nhuan District
The most attractive feature of the 4221 Café & Homestay is the bold Vietnamese architecture. From the table and curtains in the living room to the architecture of the bedroom, all of them brings a vintage antique. The 4221 Café & Homestay also serves Vietnamese traditional dishes.
Surely you will have the most comfortable time in the top homestays in Ho Chi Minh City apart from luxury hotels. You can also get further information about Asia travel via our website. If you find this article useful, share with others. Enjoy your trip!