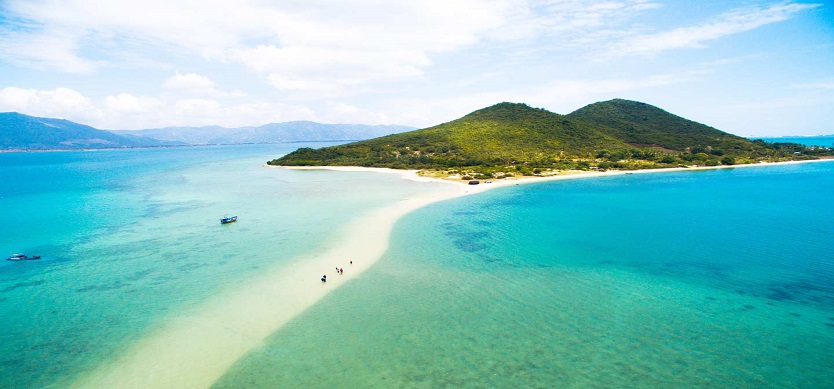 Apart from the breathtaking landscapes in the northern mountainous region that challenge tourists to explore and conquer, northern Vietnam also holds a chain of beautiful beaches along the coastal line. The sunlight of summer are illuminating around Vietnam and here is the best time to enjoy the summer vacation on the beautiful beaches. So we recommend to you the top 5 beautiful beaches in the north of Vietnam that you consider visiting this summer.
Bai Chay Beach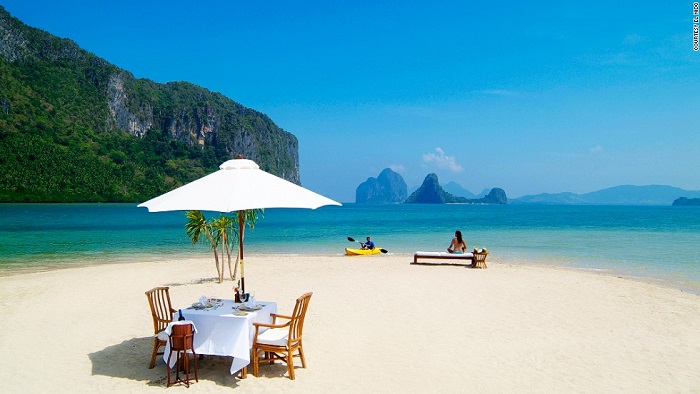 Top Beautiful Beaches In The North Of Vietnam
Bai Chay beach is a beautiful beach in the northeast of coastal Vietnam, under the administration of Quang Ninh province. The artificial beach is actually the most remarkable part of Bai Chay, which is 500m long and 1000m wide. The view of the beach is very romantic which is surrounded by a range of hill with a thin pine forest. There is a number of hotels and resort with a different type of architecture in the area.
Bai Chay is one of the best summer beaches in Vietnam which is always crowded during summer. Compared to other beaches in the region, the seawater of Bai Chay beach is very clean and blue, so visitors coming there may not only have the chance to drown in the tranquil water but also taste the freshest sea-foods in luxury restaurants. Besides that, it is so funny to visit international entertaining parks or take part in exciting services like water scooters wave surfing.
Tuan Chau Beach
Tuan Chau beach is located on Tuan Chau island. From the beach, you can launch your eyes away and overlook Halong Bay which is one of 7 new natural wonders of the world. It is undoubtedly an indispensable destination for you to enjoy the summer vacation. The beach here can serve a large number of tourists with its coast expanding more than 2 km.
There is a chain of luxury hotels and restaurants along the beach. It is so bad to not mention one of the largest entertaining centers in Southeast Asia where you can see the performances of dolphin, seal, and sea-lions which is designed in sail-shape with 3000 seats.
Moreover, tourists will have relaxing moments with a range of services such as artificial springs, natural waterfall, botanical garden, marine-life center, swimming pool, and sports. All of that is waiting for you to experience.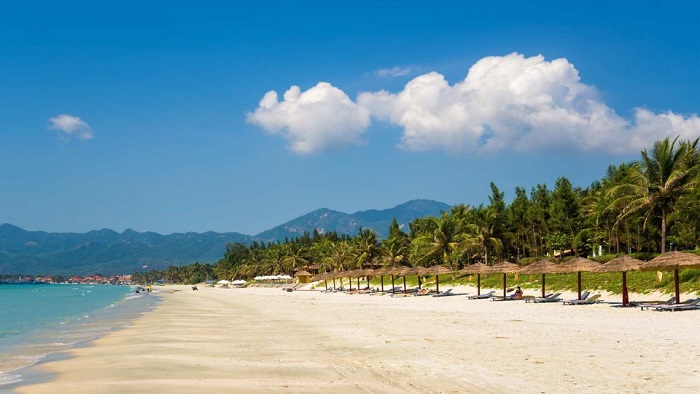 Top Beautiful Beaches In The North Of Vietnam
Do Son Beach
Do Son beach is 20 km to the southeast of Hai Phong city. This is one of the oldest beaches in Vietnam that attracts a lot of people in the summer.
Do Son beach is well-known for the smooth sandy beach with a line of coconut tree planted along the coastal road that creates tourists a real glimpse of a typical tropical beach. In the past, it was the royal beach which was dedicated to lords and kings. At present, the palace of King Bao Dai is still preserving with its best condition.
Cat Ba Beach
Cat Ba is the biggest island among over one thousand islands in Halong Bay. The island is such a fascinating combination of boundless sea, pristine forest, springs, caves, and beautiful gold sandy beaches.
The climate of Cat Ba is cool all year round which is very suitable for tourist activities. Coming to Cat Ba, tourists will attend a musical concert of wind and waves where the sound of waves crash into cliffs and the cool breezes blow on beaches or the wild sound of wind hiss on the hilltop or inside forests.
Tourist can rent a boat to travel to Lan Ha Bay or enjoy the leisure day on the beautiful beaches such as Cat Co, Ben Beo, Co Tien, etc. Besides that, there is a wide range of kinds of seafood here which are so fresh and the price is relatively low.
Hai Thinh Beach
The beach is located in Thinh Long town, Hai Hau district, Nam Dinh province. Hai Thinh beach is a peaceful romantic beach which is relatively flat and clean with a smooth white sandy beach, so it is safe for swimmers.
Top Beautiful Beaches In The North Of Vietnam
The beach is very windy with the flows of cool breezes blowing from the offshore, which create natural romantic scenery. In addition, the beach is unpopular with many people so it is a good chance for tourists who want to find a peaceful destination to escape from the busy and noisy of normal life that other famous beaches can't bring to you.
Local people here are very friendly and gentle who are ready to help you and serve you the freshest and clean seafood.
Via Asia group tours, you will have the best summertime on the most beautiful beaches in the north of Vietnam. Yet, besides the beautiful beaches, there are more things to explore and do in the northern Vietnam that you can visit when coming to Vietnam this summer. If you have any questions, let's contact us. Thank you!