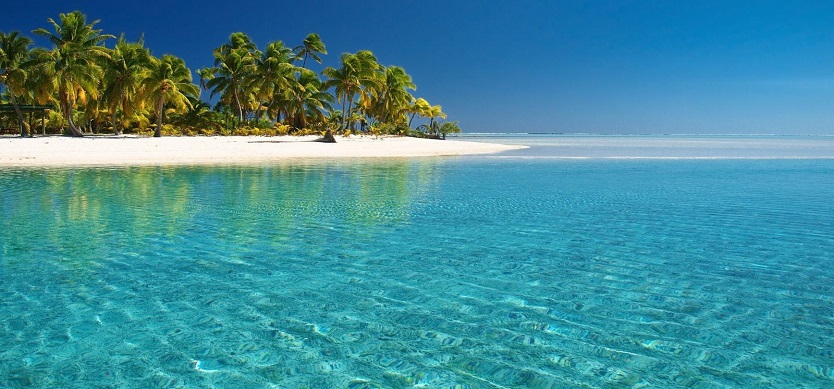 Not only is famous for gorgeous beaches and amazing cuisine, the pearl island Phu Quoc has also numerous fascinating activities. If you're planning your Vietnam tour package, let's try these things below.
Night Squid Fishing
Night squid fishing is one of the most popular activities when visiting Phu Quoc Island. There is nothing better than catching yourself squids floating in the sea. The squid that you catch will be cooked right on the boat. To take part in this activity, you can book the tour at your hotel in Phu Quoc. The price is about 200,000 VND for 3 hours including guide, transfer service, and fishing supplies.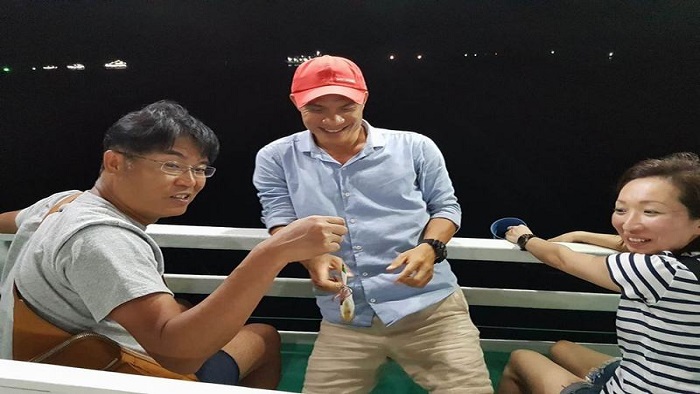 Night squid fishing in Phu Quoc
Explore Dinh Cau Night Market
Dinh Cau Night Market situated in the heart of Duong Dong Town is a dining and shopping center for tourists and local people. In the market, there are numerous Phu Quoc specialties such as fresh seafood, snacks, pearl jewelry and bracelets, clothes, shoes and especially impressive sculptures from the shell. The most crowded time is from 7 pm to 11 pm. Restaurants, bar, and cafes also concentrate here.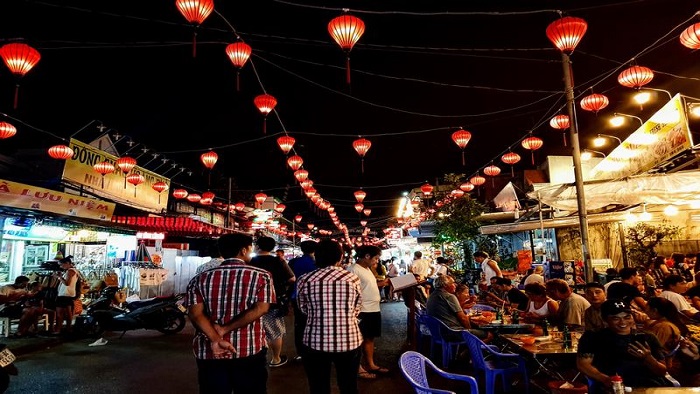 Dinh Cau Night Market (via aboardertale)
Dive to see the coral
Diving to see the coral reefs is one of the most interesting things to do when traveling to Phu Quoc. In Phu Quoc, there are many spots to see the coral but the most famous one is An Thoi archipelago with Thom Islet, Roi Islet, Dau Islet, Gam Ghi islet and Dua Islet. You should book to tour from a prestigious travel agency to make sure your safety. The diving tours are also provided by hotels and resorts in Phu Quoc with the price ranging from 350,000 VND to 500,000 VND.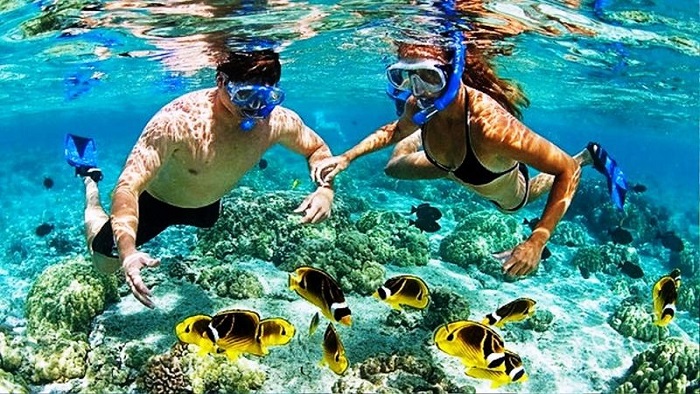 Diving in Phu Quoc (via halfprice)
Explore the primary forest and national park
Da Ngon Ecological Reserve located right downstream of Ham Ninh mountain range is an ideal place for a picnic, hiking, bathing and exploring the primary forest. Besides immersing in the cool water, you can enjoy the refreshing feeling in the unique natural Jacuzzi on the island. Phu Quoc National Park is one of the areas that still preserves the pristine jungle of the South. Coming here, you can enjoy the beauty of nature with forest, sea, streams, waterfalls, and mountains.
Visit Phu Quoc Prison
Located in Cay Dua Village, An Thoi Commune at the southernmost of Phu Quoc Island, Phu Quoc Prison is the central prison of South Vietnam in the American War. Formerly built by the French colonialist to imprison Vietnamese people, it was rebuilt by Saigon government in 1967 in the total area of 400 hectares.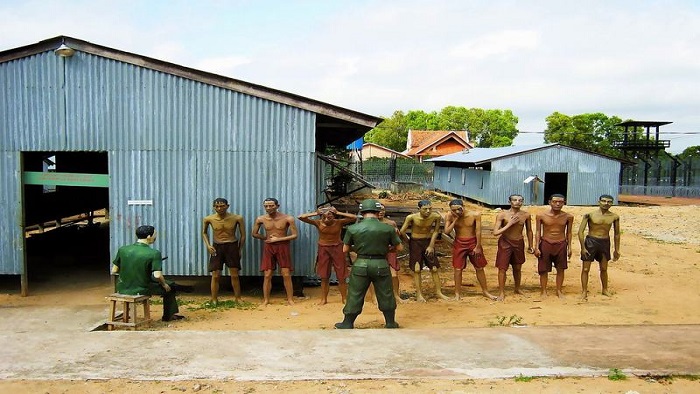 Phu Quoc Prison (via vietnamairtravel)
Phu Quoc Prison has 12 subdivisions numbered from 1 to 12 guarded by 3 military battalions. The regions 13 and 14 were added at the end of 1972. Each subdivision could accommodate about 3,000 prisoners. Surrounding each detention area is a germination of 10 – 15 hardwood stakes with dense electric lighting.
Phu Quoc prison is a living proof of the cruel crimes committed by the colonial regime and the imperialist invasion and the unyielding struggle of the soldiers.
In the past years, Kien Giang Province has restored and upgraded some constructions such as 5 prefabricated houses including custody, canteen, kitchen and two guardhouses of the supervisor, restoring underground tunnel, a section of barbed wire fence, watchtower, tiger cage, the monument in the prisoners' cemetery and exhibition center.
Bathing in Tranh stream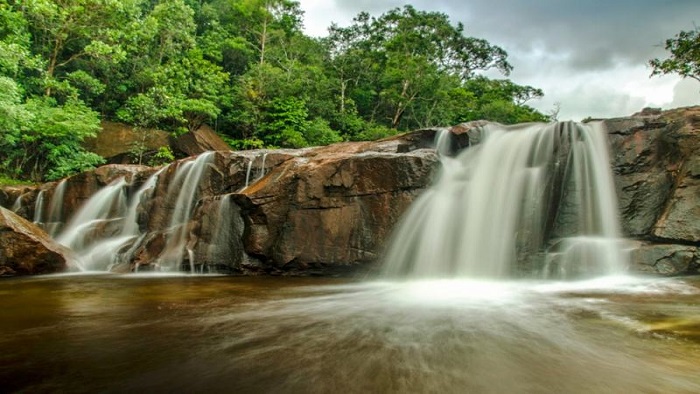 Tranh Stream (via phuquocgreenisland)
Tranh Stream is a famous destination on Phu Quoc Island which flows through beautiful natural scenery with flowers and forests. It's an ideal place for picnic and camping. Originated from the Ham Ninh Mountain with a length of 15 kilometers, Tranh Stream is the best place to bathe. Near the stream, there is also the mysterious Bat Cave with many beautiful stalactites inside.
Visit pristine beaches
Phu Quoc is home to numerous beautiful beaches that you should not miss. Recently, Long Beach has been voted the top 100 most gorgeous beaches in the world. Pureness is what this beach is awarded, also the reason for visitors coming to Phu Quoc. Stretching 1500 meters with clear blue water, Long beach is the perfect place for swimming, exploring the cuisine and taking a motorbike tour to the pearl farm.
From Long Beach, you can see two small islands which are Dam Island and Doi Moi Island.
Another famous beach on the pearl island is Sao Beach - one of the best beaches in Vietnam located in the South of the island.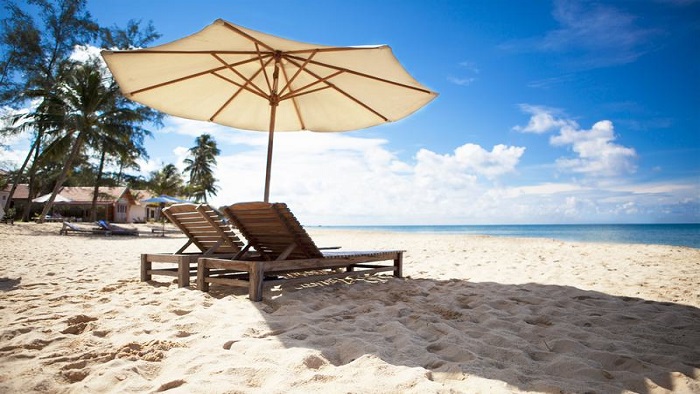 Beautiful beaches in Phu Quoc
Visit traditional villages in Phu Quoc
Traditional villages are must-see destinations in Phu Quoc. Phu Quoc fish sauce is a very famous brand throughout Vietnam. Coming to Duong Dong and An Thoi, you will see firsthand the job of making fish sauce here. A lot of families make the fish sauce in many generations with their own secret to make the aromatic flavor of fish and pepper and also to preserve their reputation.
In addition to the fish sauce, Phu Quoc is also known for excellent pearls with a variety of colors: black, white, yellow and pink.
Such a lot of interesting things to explore the stunning Phu Quoc Island which can bring you a memorable trip in Vietnam. Visit our website to get more information about Asian tours. Share this post to others if you find it useful. Thank you!