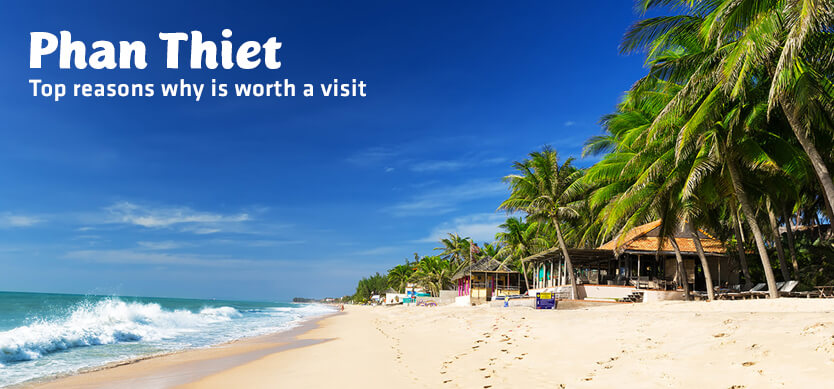 Phan Thiet has been well-known for its stretching white sands, clear blue water, and coconut trees. It's also a cultural site that attracts a lot of tourists. If you're planning your Asian tours and travels, don't miss this destination.
Best time to visit Phan Thiet
Located about 200 kilometers from Ho Chi Minh City in the South Central Coast region, this city has a typical tropical climate. The average temperature in the year ranges from 26-degree Celsius to 27-degree Celsius. The weather is nice so tourists can visit there at any time of the year.
From December to February
At that time, Phan Thiet is affected a bit by the winter in the North. The cold weather is suitable for excursions to this miniature Sahara to admire the stretching sand dunes as desert wilderness. Many interesting shapes of sandhills are made by the wind which will amaze visitors. Do not forget to visit Bau Trang – Bau Sen when coming to Phan Thiet at that time. There is an amazing natural lake nestled among sands.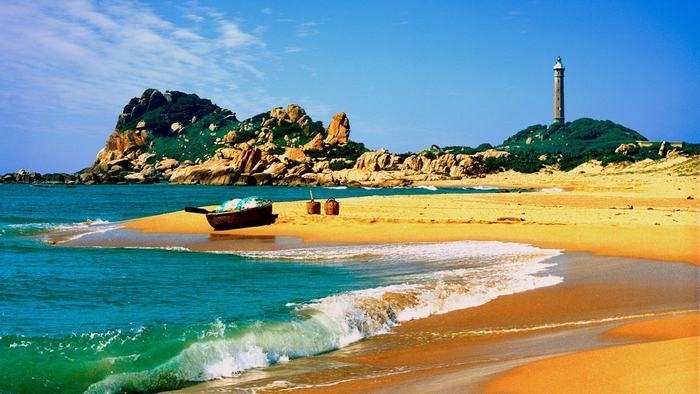 The beauty of Phan Thiet
From August to December
It's the turning season time when Phan Thiet has passed the summer. It's a suitable time for windsurfing and adventurous sports on the sea.
The accommodation in Phan Thiet
Resorts in Phan Thiet are often built near the beach which brings the cool breezes to make guests see the honest view of this coastal city.
Anantara Mui Ne Resort & Spa
This is a great combination of Western modern and traditional Vietnamese style. Anantara Mui Ne Resort & Spa is the first 5-star international standard in Vietnam which ensures to bring guests amazing experiences.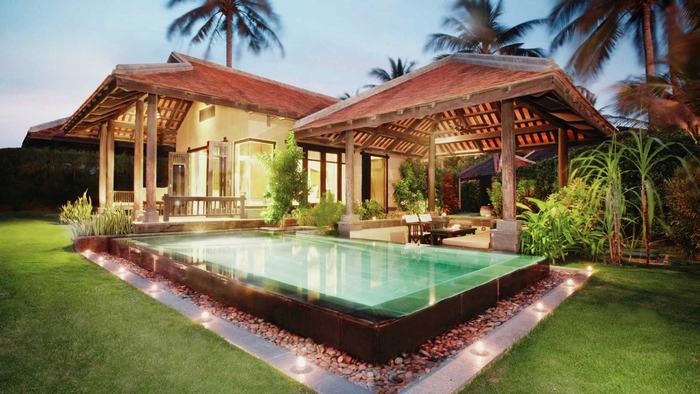 Anantara Mui Ne Resort & Spa
Pandanus Resort
Pandanus Resort is considered one of the largest and most beautiful resorts in Phan Thiet. Rooms and bungalows here are designed harmoniously with the surrounding natural space which creates a romantic picture. This resort is a great place for those who like quietness and privacy.
Lara Homestay
This homestay is located far away from the city center, so it's suitable for those who like a peaceful place. Due to its isolated location, this area is quite deserted. You can walk on the beach at any time without being bothered.
The homestay includes 3 main areas: the wooden house, the square house, and the circle house. It also has a separate kitchen with full equipment and ingredients where you can cook yourself.
Coco Homestay Lagi
Situated in Tan Phuoc, Lagi, this homestay brings you a spacious and quiet space. You can take a walk to admire the scenery or take a boat to feel the fresh air.
Must-see places when traveling to Phan Thiet
Poshanu Cham Tower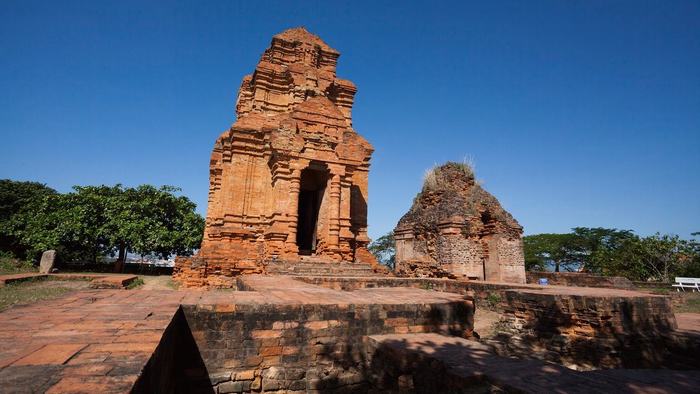 Poshanu Cham Tower
Located in Ba Nai Hill and about 7 kilometers from Phan Thiet center to the northeast, Poshanu Cham Tower is a remnant group of the ancient Cham kingdoms. The tower has the Hoa Lai architecture – one of the ancient art style of Champa. Despite the small size, the tower distilled the essence of architectural techniques and decorative arts of the ancient Cham which creates majesty and mystery.
Rang beach
Situated about 15 kilometers to the North of Phan Thiet city, Rang Beach is the most gorgeous beach here. In summer, this beach is always crowded with tourists who come to swim and enjoy the famous fish dish.
Mui Ne Sand Dunes
Mui Ne Sand Dune near Rom islet is a famous place for photographers and artists. There are up to 18 different colors of sand here. Coming here, you can experience a very interesting activity - the sand-surfing.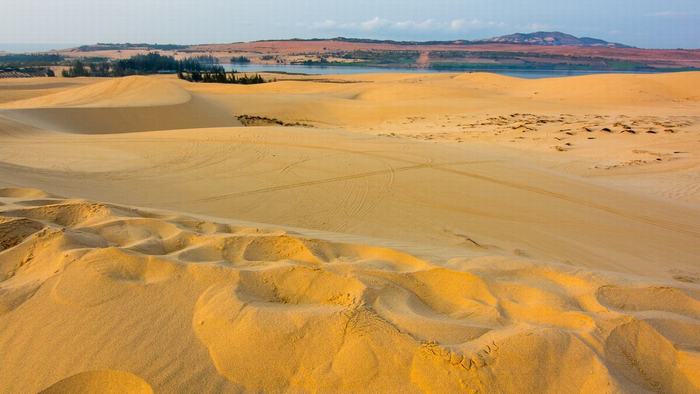 Stunning sand dunes in Mui Ne
The Fairy Stream
The Fairy stream is a small waterfall located next to Hon Rom with the very beautiful sandy valley. There are so many red and white natural stalactite hills next to the stream which have strange shapes eroded by the time.
Cu Lao Cau
Located in Phuoc The Commune, Tuy Phong District, Cu Lao Cau appears as a large battleship surrounded by hundreds of stone in different colors and shapes alternating with green grass. This is a desert island located about 9 kilometers from the coast. This place is planned as a marine reserve and an attractive marine eco-tourism.
Rom Island
Hon Rom is a desert island nestled in Long Son, Mui Ne. The water here is very clear and calm and has no cliffs. In the morning or afternoon, you can come here to see the sunset or sunrise. Famous beaches here are Hon Rom 1, Hon Rom 2 and Thuy Trang.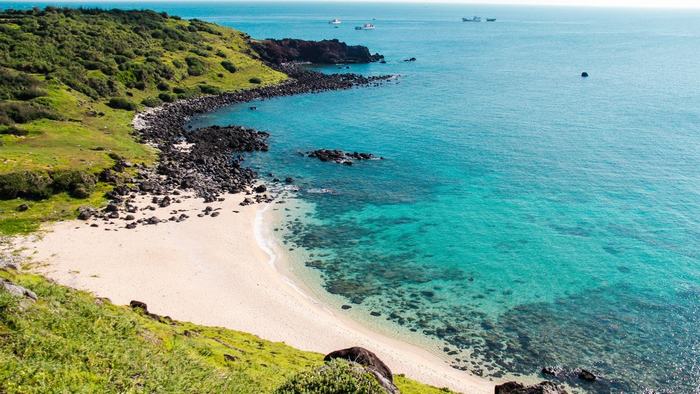 Phu Quy Island​
Phu Quy Island
Situated about 100 kilometers far from Phan Thiet coast, Phu Quy island is home to many large temples such as Linh Quang and Cao Cat recognized as historical sites. The island has rich coral reefs and beaches such as Trieu Duong Bay, Doi Dua beach, Nho Ganh Hang beach. If you have the chance to go to small islands around Phu Quy such as Hon Tranh, Hon Den or Hon Trung, you will certainly see how attractive Phan Thiet sea is.
The picturesque beauty of Phan Thiet has amazed thousands of tourists who have visited. What about you? Don't hesitate to take a Vietnam tour to visit this amazing destination. It will never disappoint you. If you find this article helpful, share with others. Thank you!