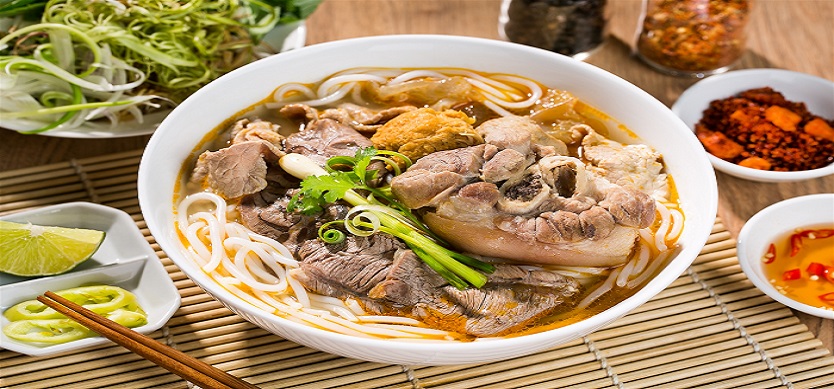 Central Vietnam has been an impressive attraction with the picturesque long-stretching beaches, the marvelous caves, the amazing religious, and cultural sites, the unique and great cuisine. There are lots of things to do and various tourist spots to see. Besides, the distinctive and exquisite culinary world in Central Vietnam is waiting for you to be explored. Here is our suggestion of top specialties of Central Vietnam, which you shouldn't miss. Do not forget to take Vietnam tours packages to get more information about how to travel around Vietnam.
Nghe An eel congee
Nghe An is the hometown of Uncle Ho who is the loving old father of Vietnamese citizen and this region is also extremely famous for many talented people in the country history. One of the most well-known specialties of Nghe An is Eel Congee. This dish is made from local ingredients such as eels which live naturally in lakes, a specific onion of Nghe An, turmeric, lemongrass. The local people often use bamboo to remove the meat of eel from its bone. This is a traditional effective way to remove sickliness. After that, the eel meat is stir-fried with several spices before being cooked with rice. The congee is topped with green onion and some pince of black pepper and served hot. Eel congee is a perfect choice on cold days.
Hell Steamed Rice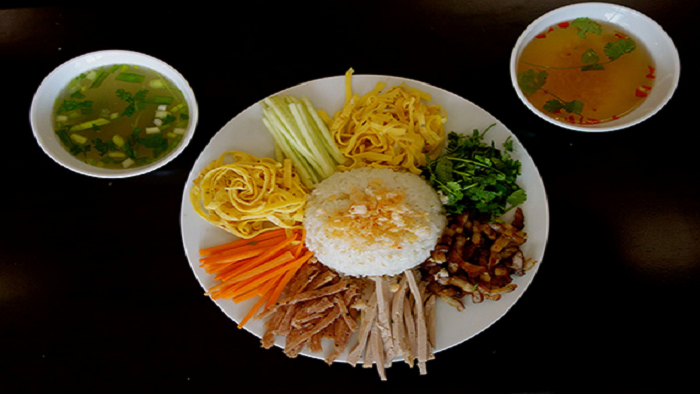 Hell steamed rice (via chiecthiavang.com)
Hue is the ancient kingdom of Nguyen dynasty. The city is peaceful with many amazing attractions as well as great cuisine. Hell Steamed Rice is a should-not-miss dish when visiting this city. A plate of Hell Steamed Rice includes steamed rice in the middle, surrounded by roasted ground shrimp, grilled pork, savory pork pie, fried egg, and cucumber. The remarkable thing about this dish is that each ingredient is sliced into thin strips. The dish is served with the light dipping fish sauce. Hell Steamed Rice not only looks colorful but also flavorful. It's worth a try.
Quang-Style Noodle
Originating from Quang Nam province, it is a popular dish throughout the country for its great taste. The noodle is little similar to Pho noodle but thicker and has the yellow color since the cook uses turmeric powder to color it. The soup doesn't cover the noodle like other types of Vietnam noodle soup but only enough to mix the noodle with toppings such as pork, shrimp, rice crackers, boiled egg, and lots of herbs.
Rice Noodle Soup with Fish
In Vietnam, there're dozens of rice noodle soup but the one with savory fish cakes in Central style is very special. The fish cakes are made from fresh fishes which are newly caught so that the flavor is really fantastic. Da Nang and Nha Trang cities are popular destinations which are famed for this exquisite dish. Do not forget to try a bowl of rice noodle soup with fish when visiting these venues.
Cu do
Cu do is a type of crispy candy, including many layers made from dry rice cake, peanuts, malt, and sugar cane honey. The outstanding thing about this cake is the strong aroma of ginger which is used to make the dish warmer to eat. Vietnamese people often eat cu do while drinking green tea and having leisurely chat. It may be a strange candy to those who come from other countries. However, its delicate flavor will surely conquer your taste. Let's try it and it's also a good idea to buy some packs as a gift for your relatives in your hometown.
Banh beo (Vietnamese steamed thin rice cake)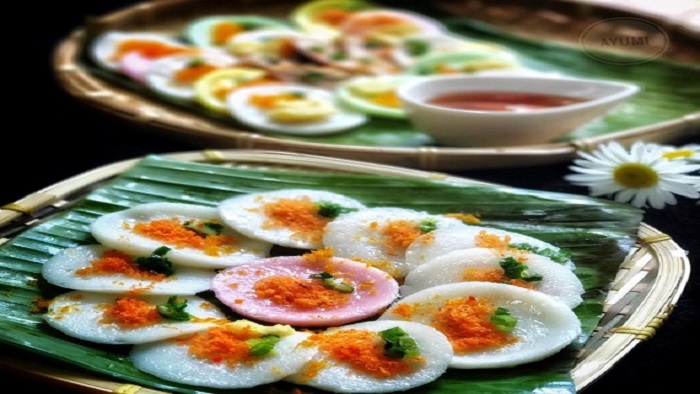 Banh beo (via news.zing.vn)
Just take the first bite of banh beo and you will find out why this specialty holds a special place in the hearts of the locals. Instead of one large plate of food, a serving of banh beo involves a dozen tiny flattened plates of thin rice pancake topped with roasted ground shrimp, green onion oil and roasted pig skins, along with a bowl of light dipping fish sauce. Actually, a dozen dishes seem to be a lot of food, but it isn't sufficient to fill your stomach and its wonderful flavor will force you to eat more and more.
Hue beef vermicelli (Bun bo Hue)
This famous dish is closely associated with the former ancient capital of Vietnam. Being spicier than any types of Vietnamese noodles, a bowl of bun bo Hue consists of thick vermicelli, boiled beef, pig blood, pig's trotter, herbs and lots of green vegetables.
Cao lau (pork noodle with greens)
This food is hyper-specific to the ancient town. It's strongly believed that if you eat Cao Lau outside of Hoi An ancient town, you're not eating the authentic Cao Lau. Available throughout the town, Cao Lau typically consists of rice noodle, roasted pork, crispy bits and lots of herb and fresh greens. Many local restaurants sell this classical dish, the best traditional versions are widely considered to be served at the Hoi An Central Market.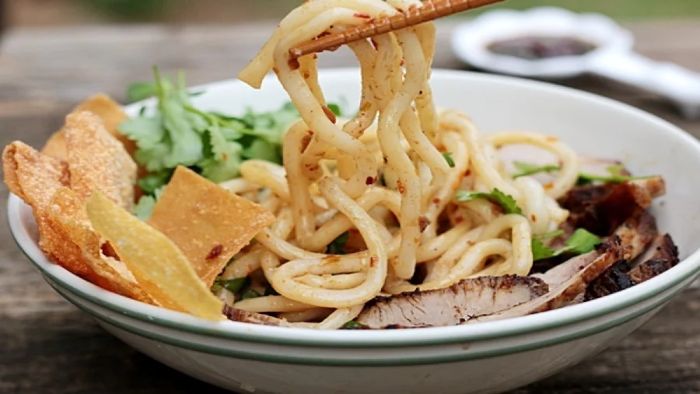 Cao lau
Rice with baby clams (Com hen)
A bowl of com hen is loaded with hot rice, freshwater clams, lots of herbs and shrimp fermented paste. The flavor is strong and spectacularly good. It's a good idea to visit a vendor on the sidewalk, sit in tiny plastic chairs, get a bowl of com hen and have an authentic local cuisine experience.
The Central holds an important place in Vietnam tourist map with the variety of the distinctive and attractive destinations. The Central's cuisine is evaluated to be superb with the particular flavor. Once visiting the Central, do not forget to try these above dishes, which will surely leave a strong impression on you. Why don't you stand up and take Asia tours right now? Asia is waiting for you. Share the post if you find it helpful.