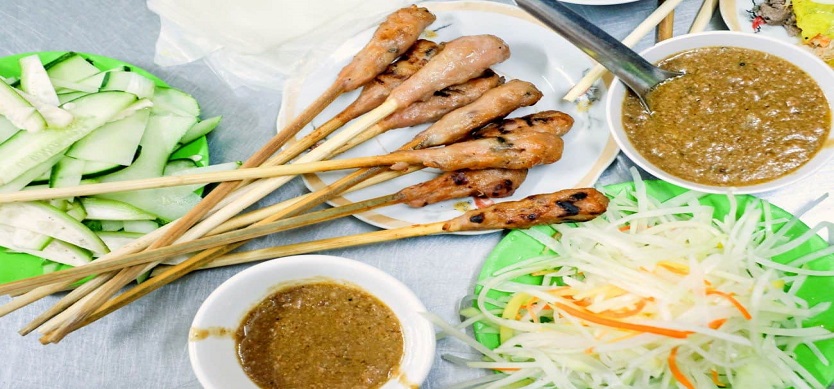 Beautifully situated among three world heritage sites: Hoi An ancient town, My Son sanctuary, and Hue ancient capital, Danang is one of the most visited tourist destinations in Vietnam. Danang has been famed for the picturesque beaches worldwide, the majestic mountains, and the breathtaking landscapes. Moreover, Danang local food is described to be exquisite and addictive. Here is our suggestion of top specialties you must try when visiting Danang. Do not forget to take Vietnam tours to get more information about the best places to visit in Vietnam.
Banh beo (steamed thin layer rice cake)
Banh beo is a heritage dish of the central Vietnam cuisine. It is extremely popular in Hue, Quang Nam, and Da Nang. In fact, banh beo is a kind of steamed thin layer rice cake. A serving of banh beo which includes a tray of nearly tens of small bowls can be eaten straight by using a spoon with some light fish sauce or chili sauce to go with it.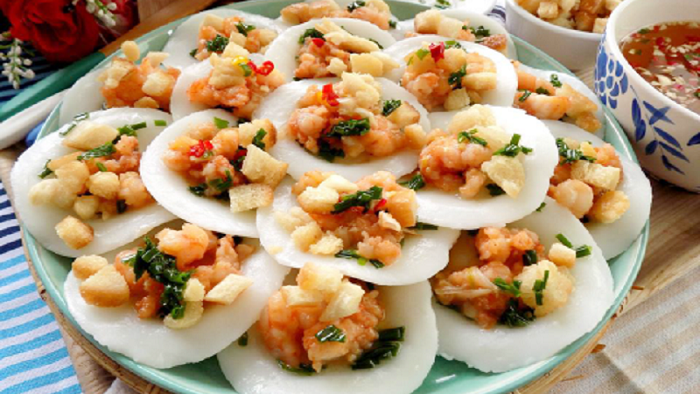 Banh beo
Banh mi (Bread)
Actually, banh mi is toasted baguette filled with jambon, cha (Vietnamese sausage), pate, chili sauce, and some herbs. The creaminess of homemade pate combines perfectly with the crispy bread and fresh herbs. The best store selling this dish is considered to be the shop of Mrs. Lan at 62 Trung Nu Vuong street. The generous amount of fillings with the exquisite will satisfy your taste.
Banh xeo (Vietnamese crispy pancake)
Banh xeo is a kind of crispy rice flour crepe with the filling of bean sprouts, pork, shrimp and mung beans. It is served with rice paper and lots of greens. You will be surely impressed by how crispy this pancake is. All you have to do is to wrap all the ingredients with rice paper and dip it into a special dressing, which is made of peanut paste, hoisin sauce, chilies, and pork liver. One huge mouthful and you will get tons of flavors from the savouriness, crispiness to sweetness, well-balanced with the secret sauce.
Quang-Style noodle
If Hanoians have pho (beef noodle soup), Saigonese have hu tiu (noodle with pork and shrimp), then Quang Nam and Danang have Quang noodle. It is not only a big star of Quang Nam province but it's also popular throughout the country. The noodles have the yellow color of turmeric powder and are incredibly glutinous, soft and full of rich rice flavor. The special thing about this dish is that the broth is enough to cover the noodle and mix all the ingredients. The tender chicken, crispy rice crackers, roasted peanuts, and fresh greens combine together to make the dish tastier. Many locals have this food for breakfast, but it's easy to see people hurriedly slurping their bowl of Quang noodle at all times of the day. Authentic Quang noodle is served with different kinds of herbs: Thai basil, bean sprout, lettuce, cilantro, spearmint, watercress, Vietnamese mint, and sliced banana flowers. These flavors help the dish more healthy and well-balanced.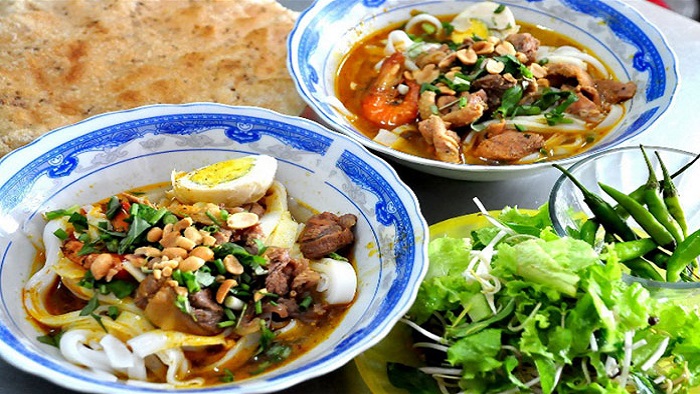 Quang noodle
Banh canh (thick noodle soup)
Banh canh is exactly the dish that will warm your heart! Strips of banh canh are made of both rice flour and cassava flour. These strips are thick and super chewy.
The broth of banh canh is cooked from fresh fish, shrimp and pork bones. It goes best with fish balls, boneless fish, pork pie and shrimp. Honestly, it tastes so good than it sounds. Try banh canh and you will have a unique culinary experience.
Rice paper with pork
Truthfully, with basic ingredients, this food can be so good. Pork shoulder and buttocks are cooked by steaming to keep the juiciness of the meat. Vegetables must be incredibly fresh. However, the vital ingredient taking this dish to the high level is a Central Vietnam special sauce called "mam nem." This sauce is made from fresh fermented anchovies then it is mixed them with sugar, pineapple juice, garlic, chili before having an exquisite bowl of sauce. A roll of pork matched with fresh herbs dipped into the savory, sweet, and spicy mam nem will definitely create an unforgettable culinary experience for you!
Bun cha ca (vermicelli with fish cakes)
Cha ca (fish cakes) is a specialty of Central Vietnam since this coastal region is well-known for the abundant and high-quality fish! Bun cha ca posses two types of fish cakes: steamed and fried ones. However, the fried fish cake seems to be more popular. Just try two versions and find your favorite.
Banh Trang Dap (Breaking Rice Paper)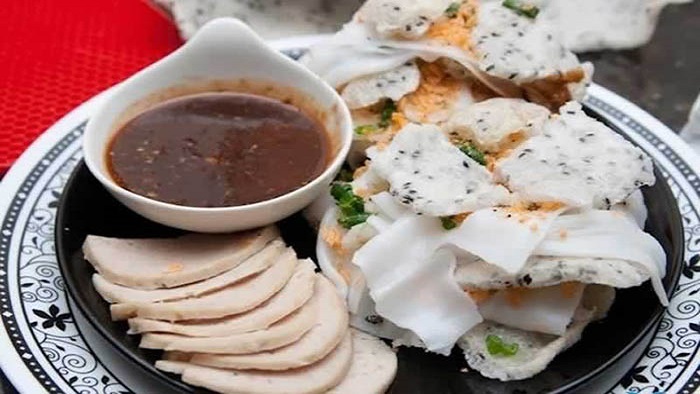 Banh dap (via depplus.vn)
You must be wondering where this strange name come from. Despite sounding violent, this dish is not that brutal at all. In fact, the name originates from the fact that the chef often gently break the outer layer of roasted rice paper to make it stick to the inner layer of the steamed thin rice cake. This method will make the food tastier. What makes this dish stunning is not only the crispy roasted rice paper, the fragrant steamed thin rice pancake, but also the sauce of mam nem which is used with almost rice-paper dish in Danang.
The beautiful coastal city of Danang owns the extraordinary natural beauty, ranging from the pretty beaches, majestic mountains to verdant national parks. If you are a foodie, Danang is basically a heaven on Earth. Let's try these above delicious dishes and your taste will be woken up. Why don't you stand up and take Asia group tours right now? Asia is waiting for you. Share the post if you find it helpful.