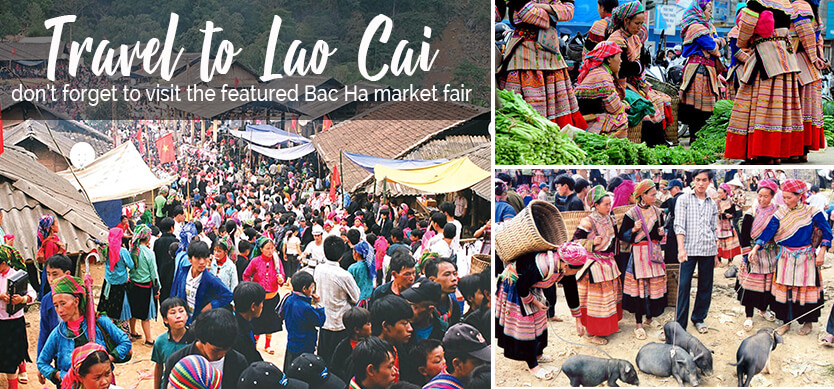 Bac Ha market fair has long been known as one of the special markets in Lao Cai with full of cultural features and color of life of the H'Mong ethnic community.
Bac Ha cultural market is held weekly on Sunday in the center of Bac Ha town, about 60 kilometers from Lao Cai city. This is the largest and most well-known market of the ethnic in Vietnamese border uplands.
On the way to Bac Ha, travelers will admire the majestic natural beauty of mountains, deep chasms, bends, and terraced fields, etc, so this road is very suitable for those who love taking photos. Sometimes we can encounter an image of an ethnic person with a horse heading toward Bac Ha market. People have to go very early because the route is quite far, even to go from the day before to this afternoon to reach the market.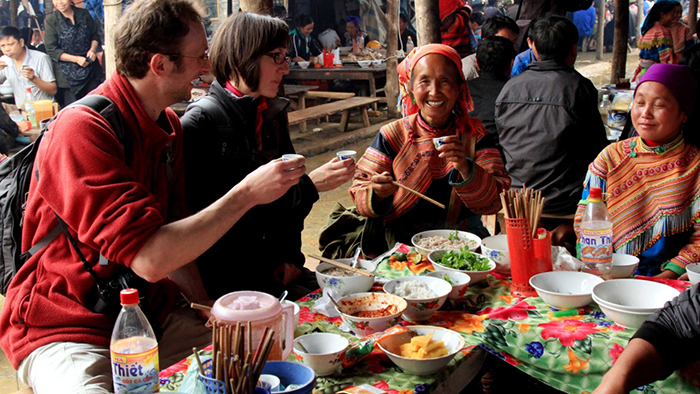 ​
A corner in the dining area (duongphuongdai.blogspot.com)
A feature of the uplands
Widely known as the largest upland market of Lao Cai, gathering traders from many ethnic groups to exchange, but Bac Ha is more famous because of the pristine and feature. The market has been built on a concrete foundation, no longer on a flat hill but it still retains its tradition. In here, tourists can find anything that is necessary for the life of the ethnic people from shovels, brocades, or even horse, buffalo which is clearly divided into smaller markets for easy to find.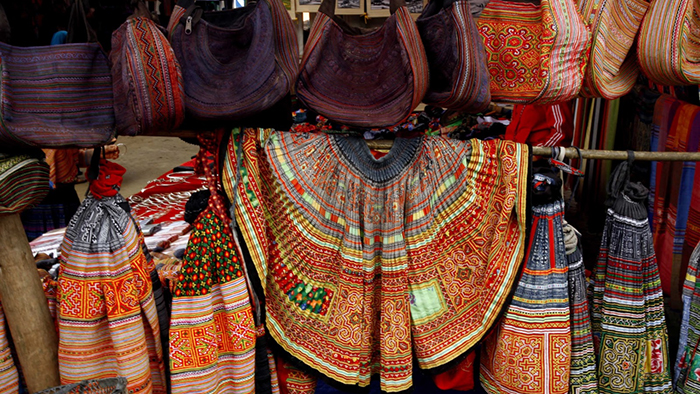 Many bags and skirts full of colors in Bac Ha market (duongphuongdai.blogspot.com)
Top things to do in Bac Ha market
Tasting specialties
From the entrance, visitors can see the cakes sold on both sides of the road as well as in the market. Each kind of snack in Bac Ha market has the price of less than VND 5,000. Another popular dish of Bac Ha people is sour pho. A bowl of Vietnamese pho full of meat, salted vegetables, pho, herbs, and chili costs only VND 20,000. One of the most famous drinks here is corn wine - a specialty preferred by the H'Mong and Dao people in Bac Ha.
"Thang co" is a specialty tourists cannot miss when coming to Bac Ha market. Located in a large dining area, most of over 20 booths sell this dish. "Thang co" attracts not only ethnic people but also many Kinh people. When eaten, "thang co" is still on the stove like the hot pot, so that it is very hot and delicious especially in cold weather.
With a cup of corn wine - a featured drink in Bac Ha, everyone can feel more pleasant and satisfied for the time in the market in the late weekend afternoon. Corn wine has a clear color. When drinking, at first travelers can taste the aromatic flavor, then this feeling gradually soothes. Those who drinking corn wine are long drunk but still feel pleasant.
Buying plants of the forest and mountain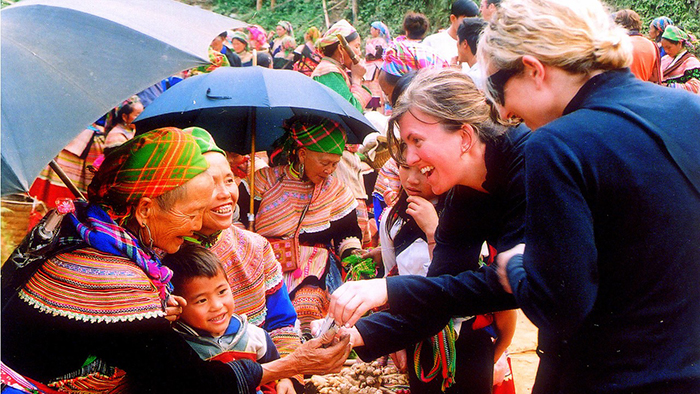 The friendly and rustic ethnic people in Lao Cai
For ethnic people, the market is a place for not only buying and selling goods but also bringing the spiritual culture, is a place to meet, exchange, and express love. Passing a 60-kilometer mountainous road, travelers come to the famous market of Bac Ha where sells all famous products of highland such as Shan tea, fruit, honey, orchids, seedlings, etc. Medicinal plants such as false ginseng, medicinal Indian mulberry, and Chinese knotweed, etc are harvested locally from all over the region and brought to the market to sell, so visitors can also buy to use or give to friends and family as Bac Ha gifts.
Buying brocade and silver souvenirs
The largest market of Bac Ha fair is the area for brocade products of ethnic minority people. From outside the entrance, there are many large and small stalls selling colorful bags, wallets, handkerchiefs, dress, brocade skirt, clothes, and silver jewelry, etc. Deeper in the market are the rows of skirts and hats. Especially, to create these crafts, people have to spend months to years depending on different sizes and difficulty levels. Be careful to choose the right ethnic handicraft products instead of Chinese goods.
Visiting cattle market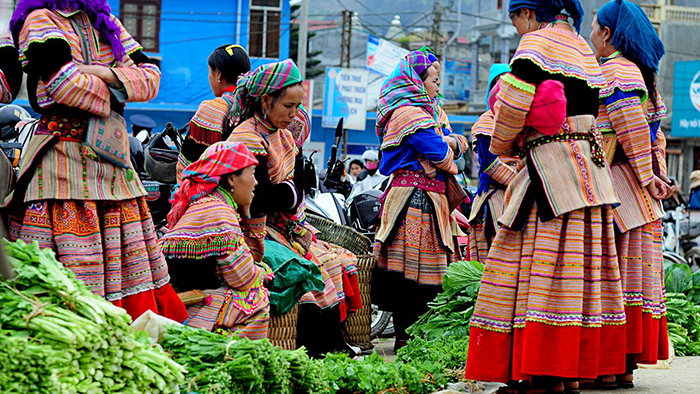 A culture in Bac Ha people's lifestyle
In addition to cloth, people also bring buffalo to an area which is large enough to contain hundreds of people to buy and sell. Buffalo market is always the busiest place in Bac Ha market with full of sizes, colors, and types. Buffalo prices vary depending on the purpose of use that is plowing or taking meat. The process of choosing buffalo is quite strict with only men as the participants. There are also many people taking buffalo to the market and then bring him back only because there is no buyer being attracted.
Behind the buffalo market is the dog market of the H'Mong and Dao ethnic people. In here, people sell from puppies to big dogs with many colors and kinds such as dogs with long hair, long tail, etc. Price of them ranges from hundreds of thousand to a million dong. Many people go from downstream to the market just to choose for their own a loyal puppy of Bac Ha area. Next to the dog market is the poultry market with chicken, duck, and bird species.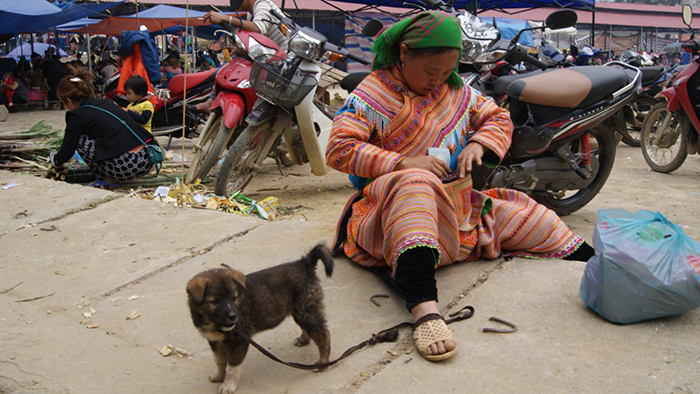 A kind of dog of Bac Ha with thick hair
Today in the process of commercializing highland markets, Bac Ha is one of the rare places to retain the national identity and unique features of the ancient market. Coming to Bac Ha in a Vietnam package tour, you will not see the offer to buy goods but the rustic faces in the colorful traditional clothes of the ethnic people. If you're concerned about this place, don't hesitate to contact us for more information. Thank you.