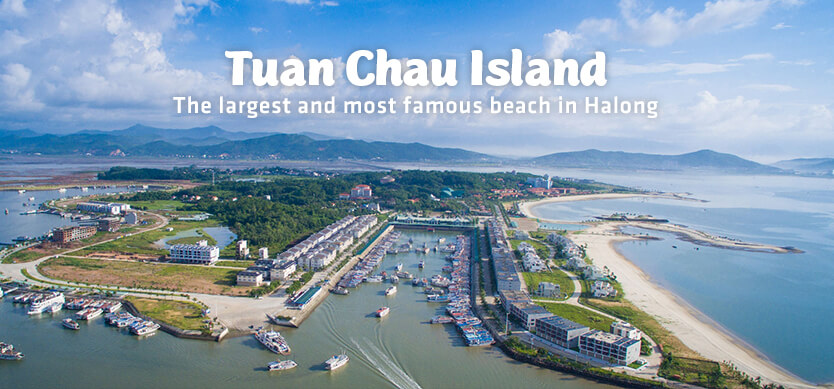 When one talks about Halong tourism, it's deficient if we do not mention Tuan Chau - the pearl of Quang Ninh. With the stunning scenery and clear blue water, Tuan Chau island promises to bring you an unforgettable holiday when taking tours in Vietnam.
An overview of Tuan Chau
Tuan Chau island is one of the most beautiful islands among 1969 ones in Halong Bay. It's also the only island which has residents living.
Tuan Chau island situated in the southwest of Halong City is a large island covering an area of nearly 400 hectares. This place is given wonderful natural conditions with smooth white sand stretching 6 kilometers, clear blue water surrounded by more than 200 hectares of pine forest. The climate is cool all year round. A large road connecting the island with the mainland was built in 2001.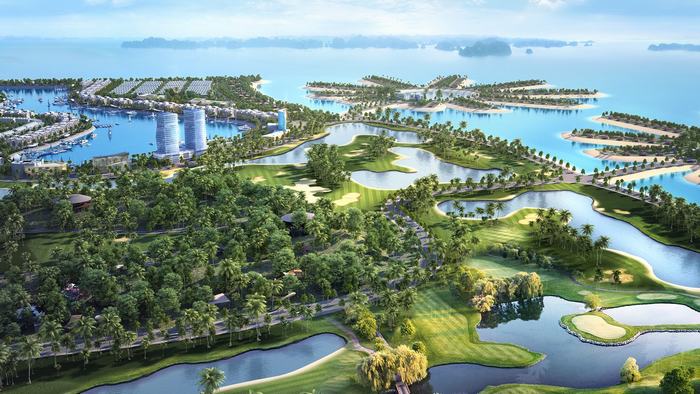 Tuan Chau Island
In addition to the charms of nature, Tuan Chau Island is also an archaeological site of Halong Culture after the Neolithic with many stone tools found such as stone ax and pottery.
The best time to visit Tuan Chau is from the end of April to October when the weather is cool and nice. You should avoid the holidays due to the crowd and expensive services.
Where to stay when visiting Tuan Chau
The tourism in Tuan Chau is increasingly developing, so the accommodation here is various.
Luxurious cruises and hotels
Halong Bhaya Cruise
The ship has a convenient location which is near famous destinations in Halong. It offers 20 cabins with fully modern equipment which is suitable for relaxing and resting.
Paradise Luxury Cruise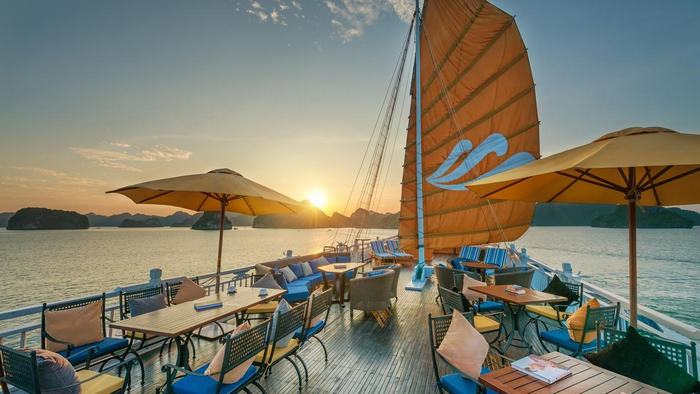 Paradise Luxury cruise
The ship provides many excellent services such as hot water, bathtub, jacuzzi, spa, and massage service. The rooms are spacious and clean. The hearty and friendly staff ensures to bring you a comfortable stay.
La Vela Premium cruise managed by Paradise Cruises
The cruise offers 21 rooms which are well-equipped. The services here are very good. The cruises also provide interesting activities such as trekking, boat rowing, fishing, spa & massage.
Mid-ranged accommodation
Halong Lavender Cruises
This is a 3-star cruise with many types of deluxe rooms and excellent services. The price is about $145 per night.
Tuan Chau Morning Star Hotel
This is a 4-star hotel located in the heart of Tuan Chau island. It offers 106 rooms and will bring you the feel of home away from home.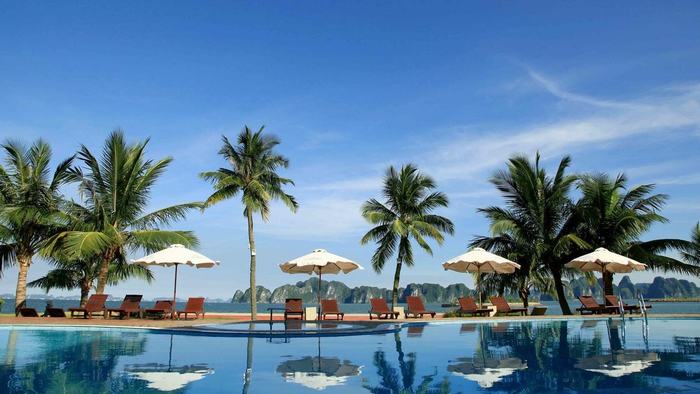 Resort in Tuan Chau
Interesting activities in Tuan Chau
Tuan Chau beach is an artificial beach just stretching 2 kilometers but you will find no better place. The blue water, white sand, and light waves are suitable for family with children to relax. There are a lot of resorts, hotels and dining areas near the beach.
Coming here, tourists have the chance to take part in other water sports such as the high-speed motorbike, canoeing, surfing, fishing, kayaking, exploring caves in Halong, mountain climbing or camping. In addition, there are also entertaining areas and exciting activities such as the performances of dolphins and water seals, circus, martial arts or colorful performances at the water park.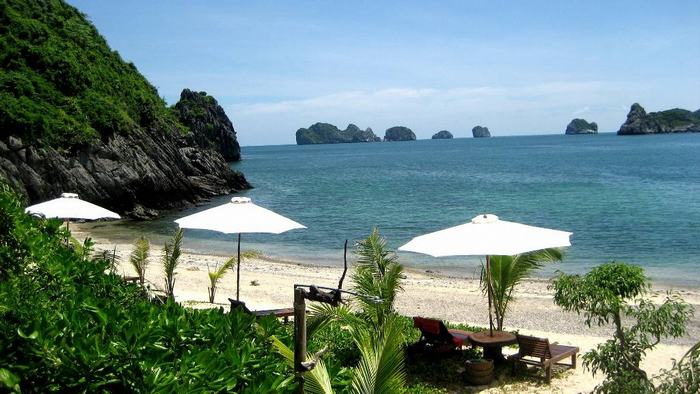 Stunning Tuan Chau beach
Tuan Chau international entertainment area opens from 7:30 to 22:30 daily.
Water seal performances: A show lasts 30 minutes (10 am – 10:30 am, 3:30 pm – 4 pm, 8:15 pm – 8:55 pm, 9:15 pm – 10:15 pm).
Crocodile performances and monkey circus: A show lasts 20 minutes (9 am – 9:20 am, 11 am – 11:20 am, 2:30 pm – 2:50 pm, 4:30 pm - 4:50 pm, 7:30 pm – 7:50 pm, 8:15 pm – 8:35 pm) (only on special occasions).
5D film
Music concert
Other games: Kangaroo Swing, Horse Swing, Electric car racing, Mysterious House, Kid House, Online Games
Tuan Chau international entertainment area
The ticket price:
For a group over 20 people: 180,000 VND/ticket (book one day in advance).
Adult: 200,000 VND/ticket
Children under 1 meter: free.
What to eat when traveling to Tuan Chau
Dipped Squid
Dipped Squid is a must-try dish when you visit Tuan Chau. This dish can be eaten with white sticky rice or stuffed pancake for the price of 15,000 VND – 20, 000 VND. The dipped squid is sold at the price of 250, 000 VND per kilogram.
Mud clam (Ngan)
It is one of the most popular seafood here. The dish can be stirred, grilled, boiled or made the salad or eaten with noodles.
Peanut worm
This seafood is very rare so it's so expensive, about 4,000,000 VND per kilogram. This dish is often made with garlic, grilled or roasted.
Hope that with our suggestions above, your trip to Tuan Chau will be easier. For more information about cheap Asia tours, you can visit our website. Share this article with others if you find it useful. Have a nice trip!