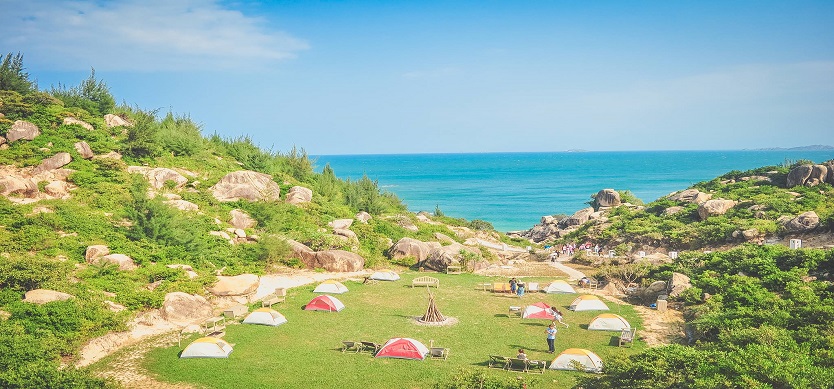 Binh Dinh is the hometown of Vietnamese National Hero, Quang Trung-Nguyen Hue. In fact, despite being lesser-known, compared with other provinces in the region, Binh Dinh is assessed to have a great potential for the tourism industry. There are lots of amazing things to explore in Binh Dinh. Do not forget to take Vietnam tours packages to get more information about how to travel around Vietnam.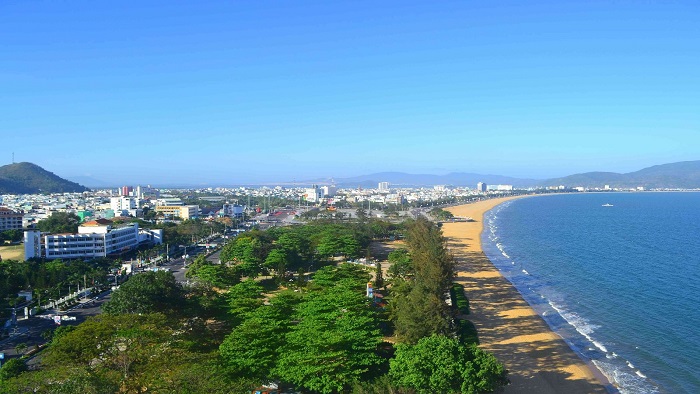 Binh Dinh (via baoquocte.vn)
Located in Southern Central Vietnam, Binh Dinh has a great potential for tourism development with the long coast, the picturesque beaches, the pristine islands, and the charming natural landscapes.
Climate
The average temperature ranges from 26 to 28ºC. The hottest time is in August and the coldest time is in January. The rainy season tends to last from August to December.
What to visit?
Ba Mountains (Nui Ba)
Located in Phu Cat District, Ba Mountains (also known with the name of Pho Chinh Mountains) is considered one of the most majestic mountains in Binh Dinh. The entire area of Ba Mountains includes more than 60 mounts with various height and shapes. These mountains recall to alluring mounts' nature pictures, dotted with lush valleys which are watered by various mountain streams. The combination of all these factors makes Ba Mountains an ideal place for eco-tourism and adventure tours.
Some of the renowned spots of Ba Mountains are Hang Rai Mount, Heo Mount and Chuong Mount that is the highest one in the complex with the height of 900m. Besides the natural-crafted mounts, Ba Mountains house lots of historical and cultural traces of Cham Kingdom, as well as Tay Son Revolution and the army base of Vietnam force in the fights against French and American invasion. A trip to Ba Mountain will not only offer visitors a relaxing time but also help them understand more about Vietnamese history.
Ky Co beach
Ky Co beach is widely regarded as one of the most beautiful and pristine beaches in Vietnam with long white soft sandbank, blue water, and magnificent landscapes around the beach.
Located in Nhon Ly Peninsula in Quy Nhon city, the beach looks like a poetic picture with the coastline curving like a crescent and three sides facing the ocean and the majestic mountains. The sea water comes in two colors. The light blue color is near the coast and the bolder blue off the coast. The seawater color combines with the colors of sand color and pure sky, creating a colorful natural picture.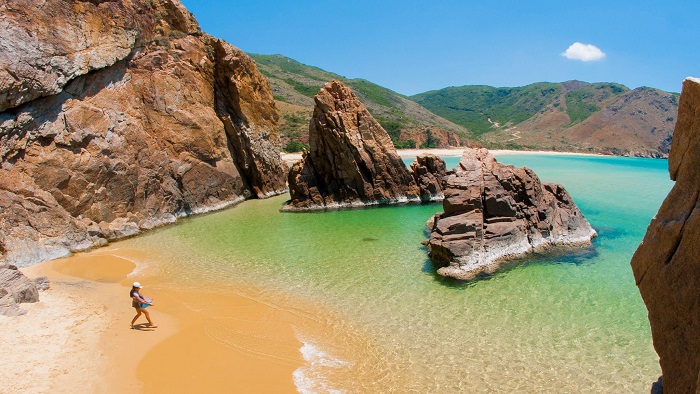 Ky Co
Hon Seo island
Being a beautiful uninhabited island, Hon Seo is an ideal spot for those who like to explore the sea, go diving, go fishing, and enjoy newly-caught fresh seafood. Located in Nhon Ly commune, Hon Seo Island is famed for its wild beauty.
From afar, Hon Seo looks like a large ship sailing to shore. Actually, Hon Seo is a wild oasis with lush plants, cliffs in interesting shapes, various wild sea creatures.
However, one of the most outstanding things about this island is a long line of colorful pebble stones which are eroded by ocean waves for years. These pebbles are so beautiful that most visitors like to take them as pretty souvenirs to decorate houses or make a collection.
Ghenh Rang
Situated about two kilometers from the center of Quy Nhon City, Ghenh Rang resembles a pretty garden lying along the sea. It houses a Queen Beach which is a unique beach, housing numerous smooth stones in the shape of eggs of different sizes, so it is called egg site.
Queen Beach is the private relaxing place of the former queen Nam Phuong. This site offers a panorama of Quy Nhon city which is situated along a pretty prolonged coast. Above the Queen beach is the tomb of the famous poet Han Mac Tu. His resting place lies at a high and solemn position, surrounded by beautiful flowers and stone statues. In a special house nearby, poetry lovers can read his well-known poems and learn more about his life. The men named Dzu Kha who manages this house is passionate about carving Han Mac Tu poems on fir-made pieces with his unique "fire" pen.
Lying beside Ghenh Rang site, Quy Hoa which is known as " the valley of peace", has attracted many visitors with stunning scenery, lovely beaches, and the greenish casuarina-tree lines.
Eo Gio (Wind channel)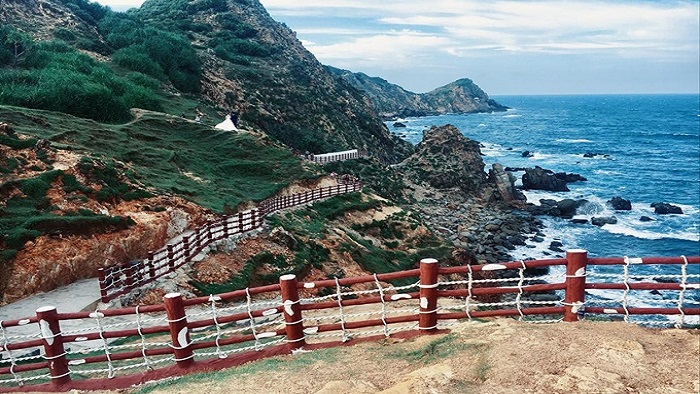 The wind channel (via baobinhdinh.com.vn)
Located in Hung Luong Hamlet in Nhon Ly Commune, actually, Eo Gio is cliffs joining together to form an arc. People call it the "wind channel" since it is formed from two mountains holding a corner of the sea that resembles the shape of a funnel. Thanks to the imaginative human mind, the high cliffs with their strange shapes are described as a buffalo or a crocodile looking onto the ocean. Local people call them various fun names and you can make up your own.
Eo Gio's appeal comes from the fact that it has rarely been touched by the human. In particular, the tourist service is not available. It's a good idea to spend your time soaking in the beach or enjoying the beauty of wild rock. Moreover, you can also climb up to the peak to get the panorama of the site as well as feel the wind and the sound of waves offshore. Remember to carry a camera to take some photos of the good-looking stalactites inside the caves.
Other attractions in Binh Dinh
►Hon Kho island
►Cu Lao Xanh island
►Ham Ho stream
►Yen island
►Thi Nai lagoon
►Duong Long Cham tower
►Quang Trung museum
Transportation
Binh Dinh can be accessible by plane, train or car.
Road: Binh Dinh is 1,065 kilometers from Hanoi, 174 kilometers from Quang Ngai, 238 kilometers from Nha Trang, 304 kilometers from Da Nang and 677 kilometers from Ho Chi Minh City.
Bus: There are buses departing to Binh Dinh from big cities such as Hanoi, Ho Chi Minh City, Da Nang, Hue, Nha Trang, Da Lat, etc.
Air: Phu Cat Airport is 30 kilometers to the North of Quy Nhon city. There are flights from Ho Chi Minh City, Hanoi, and Hanoi to Quy Nhon.
Train: The Reunification Train runs from the North to the South through Binh Dinh. It stops at Dieu Tri.
Water: Quy Nhon Port is a critical port of South - Central Coast.
Binh Dinh used to be the capital of the ancient Cham kingdom. It is not only the home to many beautiful islands and beaches, but also owns lots of meaningful historical relics and cultural destinations. Do not hesitate to visit Binh Dinh and have an enjoyable trip. Why don't you stand up and take Asia tours right now? Asia is waiting for you. Share the post if you find it helpful.