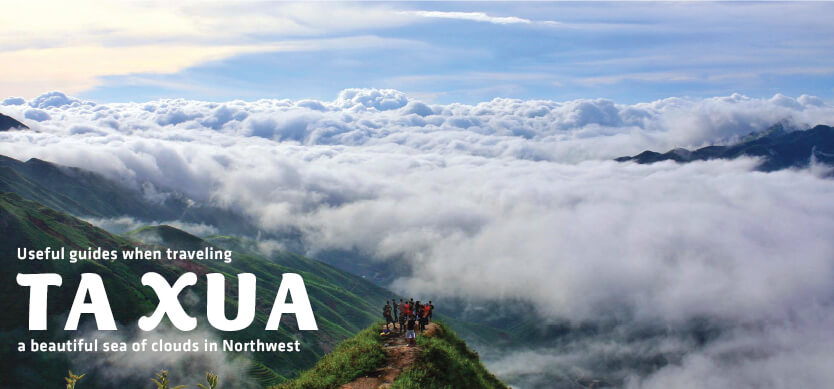 Ta Xua, also known as "the sea of cloud of the Northwest" is recently becoming an attractive destination of young people in Asia tours package. Coming to Ta Xua, you will have an opportunity to "hunt" the white clouds. The following is useful guides for you to have a perfect trip to Ta Xua.
Where is Ta Xua?
Ta Xua is a highland commune, belongs to Bac Yen district, which borders two districts of Tram Tau (Yen Bai) and Bac Yen (Son La). The road linking these two districts through Ta Xua was opened in 2011, since then the number of people traveling to Ta Xua has been increasing and this place is becoming more and more popular in the community of travel-lovers.
Ta Xua Mount (21 ° 26'01.58 "North, 104 ° 18'13.96" East) is considered as the lowest peak in the top 10 highest peaks in Vietnam by people who love trekking. With the GPS coordinates measured 2875m, the road leading to Ta Xua goes through Ta Xua Cultural Village, Ban Cong commune, Tram Tau district, Yen Bai Province.
The name Ta Xua which has been popular with young travelers recently is a small mountain range in Bac Yen district. Four sides are surrounded by high mountains, so Ta Xua valley always appears thick clouds and fogs. The white clouds billowing in the cliffs create a beautiful sea of clouds.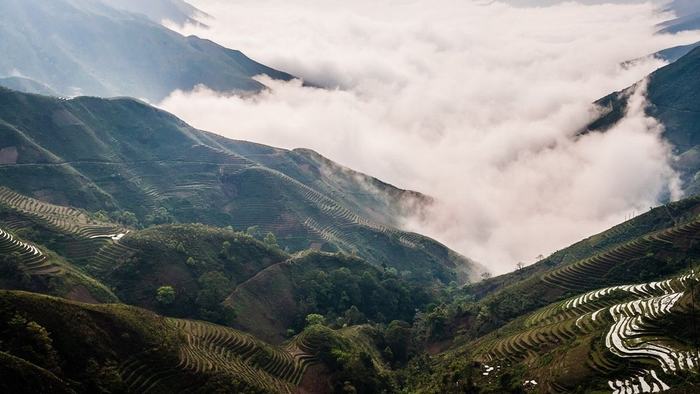 The breathtaking view of Ta Xua
When is the best time to visit Ta Xua?
The purpose of going to Ta Xua is definitely to hunt for clouds, so first of all, let's learn a little bit about the formation of clouds and the appropriate times for clouds to appear.
Clouds are blocks of droplets of condensed water or ice crystals suspended in the atmosphere of the Earth. Condensed water forms tiny water droplets (typically 0.01 millimeters) or ice crystals, along with billions of drops of water or other small ice crystals that make up the clouds that humans can see.
In Ta Xua, the appropriate time to hunt clouds is from October to April every year. However, there are many other factors that you need to consider such as drizzle, the low temperature at night and high temperature in day. During the day, it is necessary to have sunny weather for beautiful clouds.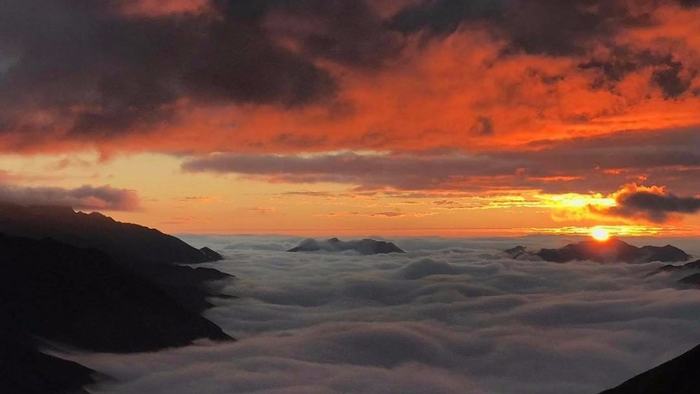 Ta Xua in the sunset
Hotels and homestays in Ta Xua
Depending on the time of departure in Hanoi, if you depart late, for example on a Friday afternoon, you can choose to stay in Bac Yen. If you go early, you can go straight to Ta Xua to camp or stay at homestays there.
Bac Yen has many hotels with average room rates ranging from 200.000 - 250.000 VND. You can negotiate with hotel owners to save money. Another option is to go straight to Ta Xua to take a rest. You will be more convenient to hunt cloud in the next morning and do not have to get up early to go from Bac Yen to Ta Xua. There are some homestays in Ta Xua such as:
Goose Hostel
Address: Ta Xua Commune, Bac Yen, Son La
Phone: 098 455 19 38
Ta Xua Tra May Guest House
Address: Ta Xua A village, Ta Xua commune, Bac Yen, Son La
Phone: 096 657 48 93
Mr. Tai
Address: Ta Xua Commune, Bac Yen, Son La
Tel: 0346082022
Thuy Linh Guest House
Address: Ta Xua Commune, Bac Yen, Son La
Phone: 0969 410 093 - 0963 770 133
The ideal locations for hunting clouds in Ta Xua
You can refer to the following places or simply, you can stop where you can take beautiful photos of the clouds.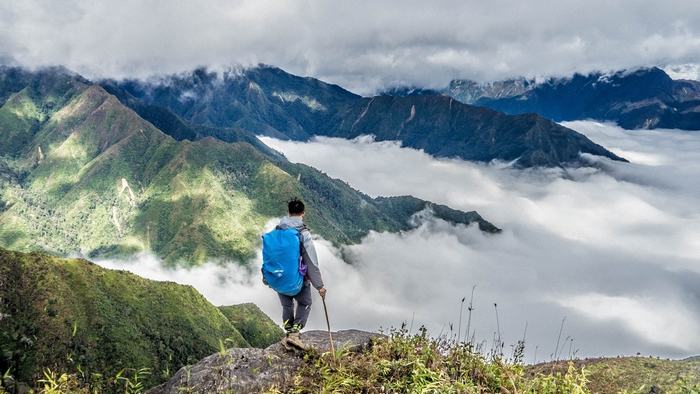 Ta Xua
Some popular locations:
The center of Ta Xua commune
Ta Xua junction to Xim Vang about 1.5 km
Ta Xua junction to Hang Dong about 3 km
Ta Xua junction to Xim Vang about 3 km
A small trail along the mountain from the eating house in the center of Ta Xua commune
Note: When stopping to capture photos at the locations near the road, you need to park your vehicle close to the curb or deeply into the curb so as not to affect the traffic.
Some note on the road
You should drive carefully. If you don't have the experience to drive on the way to Ta Xua, you do not go to the evening, do not drive too fast as well as go with the large groups.
If you do not want to have a trip that do not hunt clouds because of bad weather, you can contact the local people in Ta Xua to have the most exact information.
If you love nature and want to immerse yourself in the beautiful scenery of mountain and sky to escape the busy life in the city, Ta Xua is the best place for you. To know more information about Ta Xua and Vietnam tours, via our website. Share this article if it is useful for you. Have a wonderful trip!