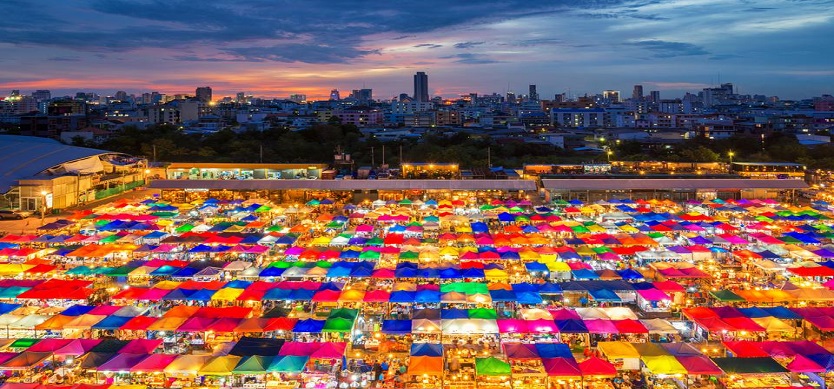 Chatuchak Market is Thailand's largest open-air weekend market which attracts a lot of tourists. You can find here the whole world from clothes, cosmetics to beautiful handmade objects. The market covers a very large area, containing more than 8000 stalls, so it takes several hours to explore the whole market. If you have the chance to visit Bangkok in your Asian tour package, you should not miss Chatuchak.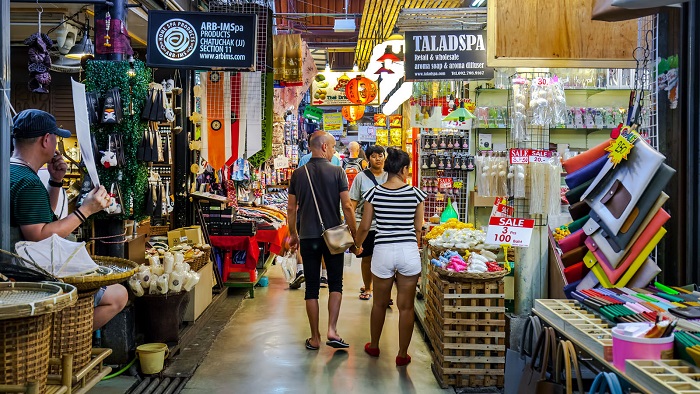 Chatuchak market in Bangkok
Some tips when visiting Chatuchak market
Come early: Your shopping will be easier if you come earlier before the crowds arrive.
- Bring the map along: Chatuchak is very large that can make you get lost, therefore you should bring a map along. You can take the map at the information center outside the market or inside it.
- Buy quickly: If you like any items, you should buy it immediately because if you hesitate and come back, you may not find it again.
- Mark the milestone if you go in a group: The big Clock Tower in the center of the market is the easiest place to find if you get lost.
- Be careful with the trick: Thefts often occur in crowded markets and sometimes if you do not pay attention such as un-clocked backpacks, the thieves can take your belongs.
- Bring cash: Most of the stores here do not accept credit cards and ATM stations are very far from the market.
- Protect your skin: wear sunglasses, a hat and use sun cream because sometimes it will be very sunny.
What to buy in Chatuchak Market
You can buy the best products at Chatuchak such as household appliances, Thai silk, handicrafts, and clothes. Almost prices at Chatuchak are much cheaper than shopping centers (including MBK).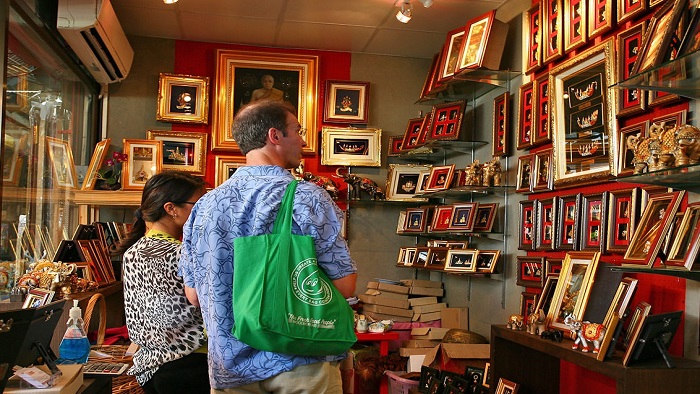 Chatuchak Market
The walkway in the market is like a maze and it is easy to get lost when you first come here. Below are the most popular items which you can find in the market:
- Clothing and accessories (zones 2-6, 10-26).
- Handicraft goods (zone 8-11).
- Ceramic and porcelain items (zones 11, 13, 15, 17, 19, 25).
- Household appliances and home decoration items (zones 1,3,4,7,8).
- Food court (zones 2, 3, 4, 23, 24, 26, 27).
- Plants & garden tools (zones 3, 4).
- Art gallery display area (zone 7).
- Pet supplies (zones 8, 9, 11, 13).
- Books (zones 1, 27).
- Antiques & collectibles (zones 1, 26).
- Other miscellaneous items and old clothes (zones 2, 3, 4, 5, 6, 22, 25, 26).
What to eat in Chatuchak
For those who are into cuisine, Chatuchak market is one of the best places to enjoy Bangkok's street food. You can find all the delicious food in over 500 food courts such as fried chicken, crispy cakes, fish cakes or Thai coconut cream. This is truly an eating paradise for you.
Coconut ice-cream
The coconut ice-cream at the weekend market is extremely delicious.
With just 35 baht, you will have a big creamy coconut cream with soft coconut fiber slices on top, 2 topping options and a glass of coconut juice.
Address: Entrance to Zone 2, near Kamphaeng Phet MRT station.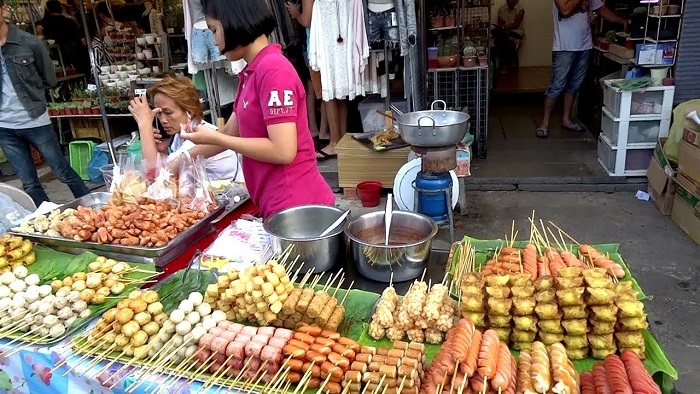 Eating in Chatuchak
Garlic bread at Hello Garlic
The garlic bread here is quite soft and crispy with the aroma of fresh garlic. On top of the bread, there is a layer of butter, soaked in the intestines. The bread will be baked as soon as the tourists order and you can even choose to the sweet bread instead of salty.
Price: 20 baht for a loaf.
Choconana
This banana is frozen and covered with chocolate and nuts and sweet nuggets on the outside. The bananas are clammy, adding the flavor of nuts and bitterness from chocolate.
Most stalls are outdoors and if you want air-conditioning, head to Toh Plue restaurant at the market center or Rod restaurant on Khampheng II Roa.
What you should not buy at Chatuchak market
Most art shops at Chatuchak market illegally trade in birds, reptiles and other wild animals. Many products made from insects or wild animals are unknown origins. Therefore, you should avoid buying items made from unidentified animals such as:
- Items from ivory, crocodile skin, turtle shells, coral, etc.
- Preserved insects, snakes and spiders.
- Antiques and items can be considered "cultural artifacts".
- It is illegal to export Buddha's images from Thailand.
Bargaining in Chatuchak market
Chatuchak market is a great market for you to bargain for anything you keep an eye on. However, if you do not want to bargain, you can look for stalls that have listed prices.
The best time to get a discount is when the store has just opened because the Thai people are very superstitious and believe that the first opening is very important.
Opening hours
- The market opens on Saturday and Sunday, from 6 am to 6 pm.
- After 6 pm, the opening air night market will have cheap items. You can shop until 11 pm.
- The market also opens on Friday but there are only a few stalls and shops.
Such a lot of interesting things you can explore in Chatuchak market. Take your backpack and travel now! Or you can also get more information about traveling to Asia via our website. Hopefully, it helps you. Have a nice trip!