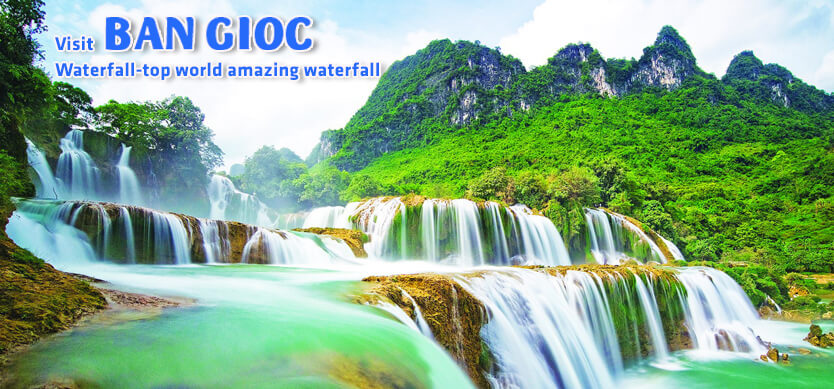 The Wonderlist has voted Ban Gioc waterfall on top of the most amazing waterfalls in the world. With its majestic beauty, Ban Gioc waterfall is an attractive destination for tourists in the northeast of Vietnam.
Where is Ban Gioc located in Vietnam map
Ban Gioc waterfall is 350 km from Hanoi. It has the other name as Ban Gioc-Detian Falls and it is located in Dam Thuy commune, Trung Khanh district, Cao Bang province. In fact, Ban Gioc is the largest waterfall in Vietnam but not the highest one. It is a part of Quan Son river which runs through the boundary of two countries Vietnam and China, so Ban Gioc waterfall also is divided into two for two countries, one side is belonging to Vietnam, one side is in China. Ban Gioc waterfall holds a lot of records in both Vietnam and the world. With its specific geography, Ban Gioc waterfall is the largest waterfall in Southeast Asia and is listed in the top five biggest frontier waterfalls in the world.
With around 30 meters of height and 208 meters of width, you can hear the sound of water falling down the cliffs from the far distance. Nevertheless, the river is still calm, peaceful, clear as a mirror reflecting the rice paddy fields on the bank. That is beautiful beyond imagination and when standing on the bank and looking at the falls, it is like a watercolor painting with the unreal beauty.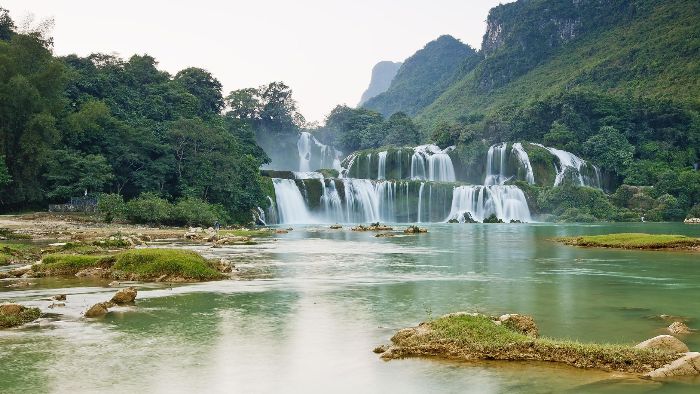 Ban Gioc Waterfall
When is the ideal time to visit Ban Gioc waterfall
Ban Gioc Waterfall has its own beauty in each season and there are two main seasons in Ban Gioc waterfall: the rainy season and dry season. The dry season begins in October and ends in May, the water level this time is quite low and the fall is very gentle and peaceful. It is more convenient to visit Ban Gioc waterfall in the dry season, it is less rainy but you have to remember to bring thick clothes because the temperature drops very low and you feel very cold if you don't wear warm enough. The rainy season is from June to September, during this time, the water rises high and the flow of water is very strong and fierce. However, it is the best time to enjoy the imposing and impressive scenery of the waterfall. Moreover, the yellow rice field on May and buckwheat blossoms in spring are an ideal time for you to visit Ban Gioc.
However, according to Asia package tour, the best time to travel to Vietnam, as well as Cao Bang, is from August to September when the water level of Ban Gioc waterfall is very high, they love the majestic beauty of the waterfall at that time.
What to do and see in Ban Gioc waterfall
Admiring Ban Gioc waterfall
In the past, tourists who want to visit the whole beautiful waterfall had to have special permission because the waterfall is located on the border of Vietnam and China. However, since 2015, you just need to come and buy a ticket which costs around 1 USD at the kiosk and there is no need to have any documents.
The sceneries around Ban Gioc waterfall are magnificent. It is a suitable place for you to take many beautiful photos of the golden rice paddy fields, wooden bridges and green grass on the foot of the waterfall. Here you can see local farmers harvesting the crops on the fields along the river bank. You can also touch a big water wheel made from bamboo which helps to supply water for daily life and the crops. Traveling on the river by a bamboo raft or a wooden boat is fun and fascinating as well. You just need to buy a ticket, which may cost 2.50USD to have a closer look at the waterfall. The ride may take around 10 minutes. There are some areas with the warning signs "No swimming", you should be careful when swimming around those regions because the water levels are quite deep and dangerous.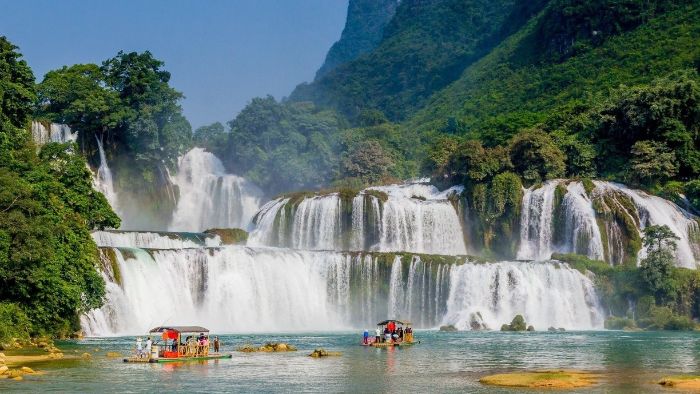 Boating to see Ban Gioc waterfall
Visiting Ban Gioc temple
Once you've explored Ban Gioc waterfall, it is time to go back up to the main road and follow it for about 600 m back towards Cao Bang until you reach a turnoff to the left with a few souvenir and food stalls. This is the way to Truc Lam pagoda. It's a steep climb, so steep in fact that you should leave the motorbike in the parking lot and give a hiking trip to the temple. This temple had just been built in recent years with the architecture of Truc Lam Zen in the north of Vietnam. It is the best place to overview the whole waterfall and so this place is recommended as a should-not-miss place when visiting Ban Gioc waterfall.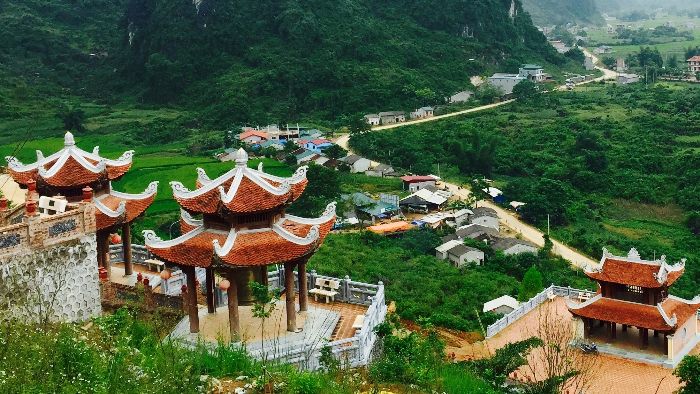 Ban Gioc temple
Exploring Nguom Ngao cave
It is only 2 km from Ban Gioc waterfall, Nguom Ngao cave is another highlight of Ban Gioc waterfall in Cao Bang province. When coming Nguom Ngao cave, you will be happily surprised at how large and amazing the interior of Nguom Ngao is. Nguom Ngao is well lit, so it is easy to take the cool photos inside the cave. And if you want to have more professional pictures, you should bring your tripod due to the ground of the cave is quite flat. The cave inside is much larger than expected and you will take an hour or more to walk through.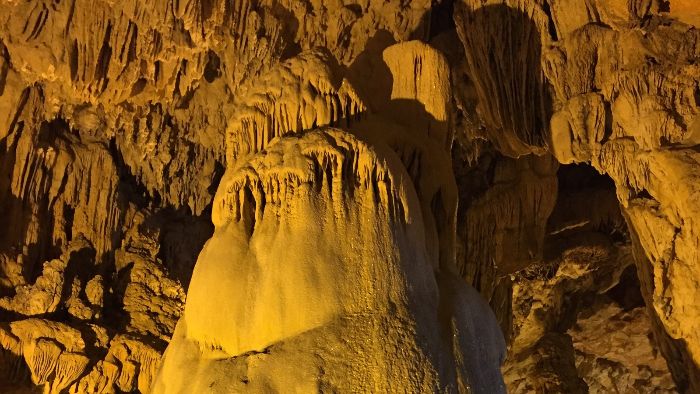 Nguom Ngao cave
It is worth to take a tour in Vietnam to visit this largest beautiful Vietnam waterfall because you will not definitely be disappointed with what Ban Gioc waterfall brings to you. If this information is useful for you, feel free to contact us. Thank you!