Laos is known as the only country in Southeast Asia with no surface adjoining the sea. But you are definitely surprised when hearing that there is an archipelago with 4000 islands existing in Laos. It is Si Phan Don- a new destination for Asian tour packages where you can see a different side of the beautiful country of Laos.
Where is Si Phan Don located
Si Phan Don in the Lao language means 4000 islands which are a group of islands in the Mekong river in the southernmost of Laos. This is a part of the Mekong river flowing through the Khong district, Champasak province. There are many islands of different sizes in Si Phan Don and many of them are under the water in the rainy season. According to the size, there are fourth biggest islands in this attraction named Don Kong, Don Som, Don Det and Don Khon. Si Phan Don is located on the boundary with Cambodia. It is 118 km to the north from Pakse and Champasak. This region includes Khone Phapheng, the biggest waterfall in Southeast Asia.
There are three main destinations for tourists in this tourist attraction. The first spot is Don Kong island, this is the biggest island but apart from the rustic views, you will have a chance to visit a museum and some temples on this island. There's nothing great to do here. Most people love to visit Don Det or Don Khon more because the accommodation here is cheaper, you can walk to the largest waterfall in Southeast Asia-Khone Phapheng by yourself, and then there are some choices for you to visit this place. You can bike, walk or swim in the river as in Don Kong to explore Don Det and Don Khon. There is a guesthouse in Don Som located in Ban Thamakheb village.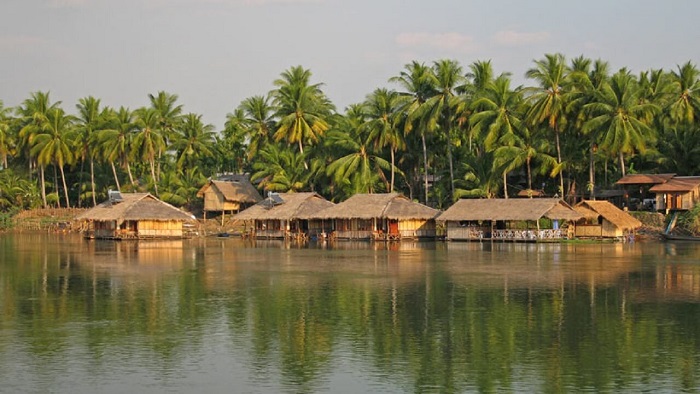 Ban Thamakheb village in Si Phan Don
How to get in Si Phan Don
Visit Si Phan Don from Laos
There are several ways to visit Si Phan Don. There is a bus from Pakse leaving the bus station from 8 a.m to 9 a.m. It costs around 70,000 Kip including the boat ticket but sometimes you have to pay the boat ticket by yourself. So you have to make a deal with your travel agent to make sure the ticket price. It is better to buy tickets in Pakse for a tour to the islands.
From the southern bus station in Pakse, there is a type of the local transport named songthaews leaving from Ban Nakasang to Don Det and Don Khon with the price of 40,000 Kip. In order to come to Don Som, you can take a songthaew to Ban Khinak for 40,000 Kip.
Visit Si Phan Don from Cambodia
From Cambodia, you still are able to take a tour to Laos, you can take a van from Kratie for $15, Stung Treng for $12 or Banlung for $16 including the boat ticket to Don Det or Don Khon. There is not much difficult to cross the border in the forest instead of meeting some customs officials and the rough road in Lao side.
There is a bus from Phnom Penh leaving in the morning to Don Det. It takes over 7 hours to get Si Phan Don with a stop in Kratie and once for lunch. Near the Lao border, the staff of the bus will ask tourists for passports and the fee for the Laos visa. However, you are no need to be afraid because they will deal with everything. It is 30 minutes away from the border to Don Det. You will pay $30 or $35 for Lao visa but citizens of a few countries have to pay more, Canadians have to pay $42.
What to see in Si Phan Don
Si Phan Don is a beautiful set of islands, located in a winding section of the Mekong river. When coming here, you have to surely check out Khone Phapheng, the largest waterfall in Southeast Asia, jump on the boat to wander the islands in the Mekong river as well as have conversations with the friendly locals. Outside of the tourist town, you can get a peek at the local people daily activities, witness the wide rice farms and plenty of farm animals. There are also several temples around here you can consider visiting, however, it is more interesting for tourists to wander around the village and see the locals and their life.
You will be surprised by the domestic dogs and cats which are very good at swimming, they often swim from island to island to look for the scraps or something tourists left in the islands. Most of them are sweet and friendly, they like to be petted and especially fed. However, some of the dogs often do get vicious at night, so remember to bring a stick in case that they attack you.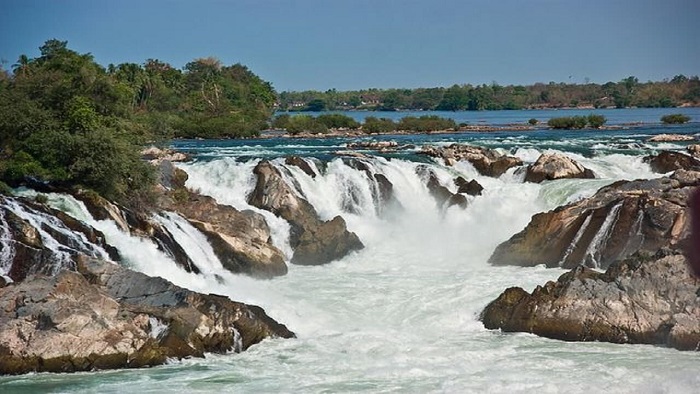 Si Phan Don islands
What to do in Si Phan Don
There aren't many things to do in Si Phan Don but that isn't a matter. There are some choices to do for you in Si Phan Don. The first choice we recommend that you can rent a bike for about 10,000 Kip and take a ride around Don Det and Don Khon which are connected by a bridge.
The second choice is that you can take a boat tour around the area. The price is about $5 per trip but if you want to go to some specific places, you can make a deal with the local boatmen. They are very friendly so don't hesitate to ask them.
Some tourists bring the candles, guitars and a drum on Don Det for a party. However, it is not welcomed by the local government.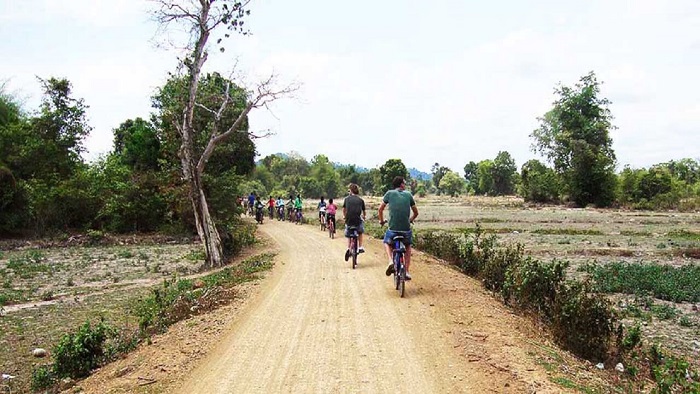 Cycling in Si Phan Don (via khiri.com)
Si Pha Don's specialties
Beer Lao on the Mekong river. It is available in the tourist areas on Don Det and Don Khon, and each big bottle with the price between 10,000 and 15,000 Kip.
Fruit Shakes is on every menu. It is about 10,000 Kip.
There are some small markets in Don Det so if you want to buy things as gifts for your relatives or friends, it is your chance for the items. There are also some items for purchase on the islands, but the good is not various.
Si Phan Don still is a hidden gem in Asia tourist map. If you are curious about this destination, contact us for more information. Thank you!