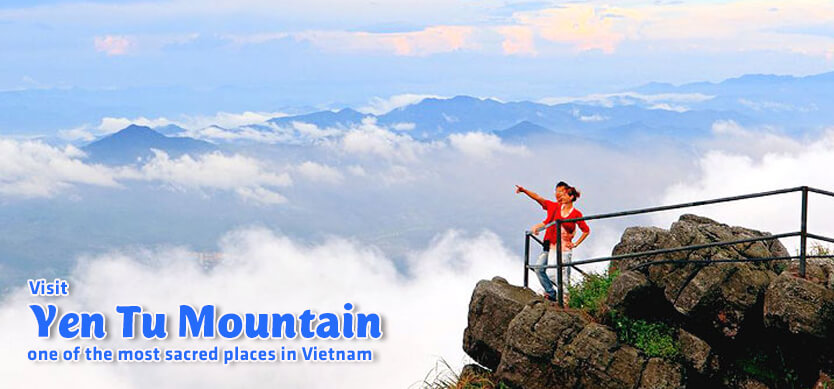 Yen Tu is a low mountain in Dong Trieu mountain range in the northeast region of Vietnam. The mountain is located in Thuong Yen Cong commune, Uong Bi city, Quang Ninh Province. Yen Tu – a natural landscape still preserves many historic sites today with the name "Vietnam Buddhism land". If you have a chance to visit Yen Tu, do not forget to take Asia vacation tours to enjoy the best moments in Vietnam.
Information about Yen Tu
Yen Tu has the total natural area of about 2,686 ha, of which 1,736 ha is the area of the natural forest which is typical for the forest in the northeast where many rare genes of plants and animals are preserved.
Together with nature, there is a system of pagodas, temples, and towers. The two sides of the ways to pagodas, temples, and towers are planted many pine trees. In this area, there are more than 200 ancient pine trees (top 4 rare trees) planted 700 years ago.
Besides pine trees, bamboo forests are also famous here. The bamboo is a unique product of Yen Tu, symbolizing the endurable vitality, the supple beauty, and the elegance of creativity. Perhaps, that is why King Tran Nhan Tong chose this place to cultivate and name this place "Truc Lam" (the bamboo forest).
Yen Tu forest consists of many different species. In 206 species of vertebrates, there are more than 20 rare species listed in the Red Book of Vietnam such as large flying squirrels, snub-nosed monkeys, paa verrucospinosa, or crocodile lizards…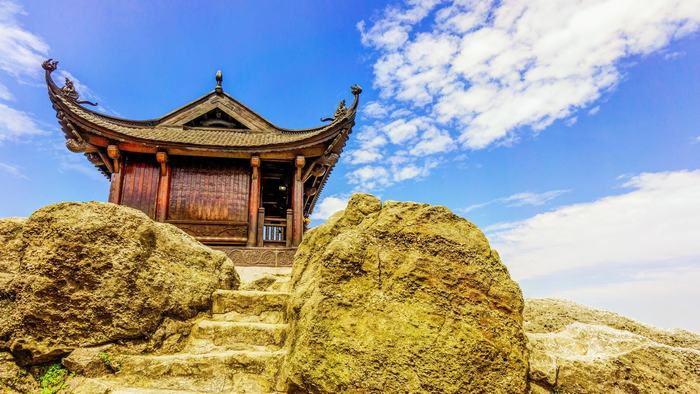 Dong pagoda
Out of the 830 species of plants, there are 38 rare and endemic species such as vatica cinerea, erythrophleum fordii, chukrasia tabularisIt, podocarpus neriifolius, cinnamomum balansae, or nageia fleuryi... Many trees have been growing for more than seven hundred years. When coming here, tourists will have a chance to admire the bamboo forest, yellow apricot, and chrysanthemum flowers ... The changes in the natural scenery change by four seasons.
Yen Tu mountain is named with a lot of appellations such as Tuong Son (Elephant Mountain), Bach Van Son (White Cloud Mountain), Phu Van Son (Floating Cloud Mountain), Linh Son (Sacred Mountain), and An Tu ... On the top of the mountain today, there is some relics of the tectonic formation of the earth 10 million years ago. In the mountains, there are big coal mines. All have created Yen Tu - the beautiful picture of nature.
Top attractions in Yen Tu Mountain
Lan pagoda
It was built under the Tran dynasty. It used to be a large pagoda with a massive construction. However, it had been ruined over time; therefore, it now has only a few traces left on the ground. In 2002, Lan pagoda was rebuilt with the presbytery, bell tower, three-door houses, display house, and guest house...The presbytery is built in the square with 2 floors and 8 roofs. The house which is behind the main hall is higher than the presbytery.
Giai Oan pagoda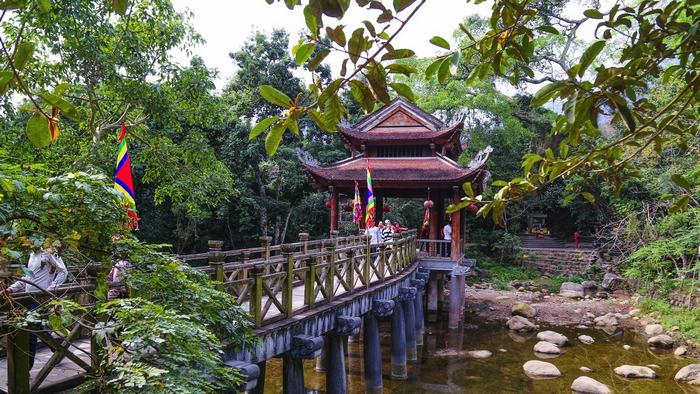 Giai Oan Pagoda
It was built in the Tran dynasty. Over time, the pagoda had been severely degraded. Then it was rebuilt in 1994 with many different structures. This pagoda is to worship concubines and wife of King Tran Nhan Tong.
Hue Quang tower
The tower today has 64 towers and tombs, of which 40 towers were repaired in 2002. This is the place saving a part of King Tran Nhan Tong's relic and the other is stored in Tran temple in Nam Dinh province.
Hoa Yen pagoda
It was built under the Ly dynasty and it has been repaired many times. Hoa Yen is the largest central pagoda of Yen Tu complex.
One-roof pagoda
The place to worship Avalokiteśvara Bodhisattva. Here, there is a ravine with cool water.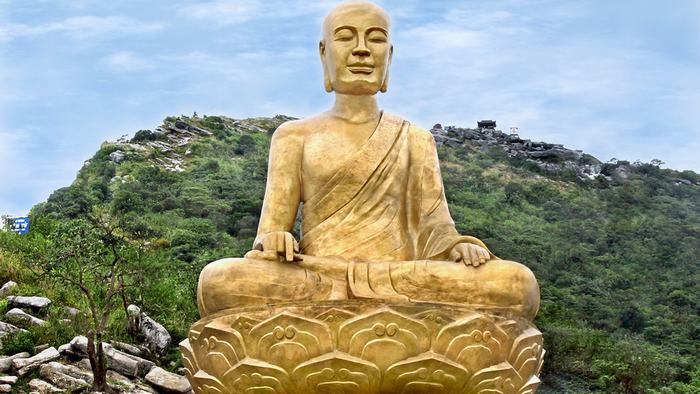 Buddha emperor Tran Nhan Tong statues
Bao Sai pagoda
It is the place where the Buddha began the nirvana (began blowing out).
Van Tieu pagoda
The place where the monks cultivate.
An Ky Sinh and Buddha emperor Tran Nhan Tong statues
The stone statue of a monk and the bronze statue of Tran Nhan Tong.
Dong pagoda
The highest pagoda on the top of the mountain.
Some tips when traveling to Yen Tu mountain
Get dressed politely when paying a visit in pagodas and temples here.
Do not litter but preserve the landscape.
Keep quiet and speak politely.
Wear comfortable shoes if you want to climb the mountain.
Bring a warm coat when you are in Dong pagoda because it is quite cold there.
Bring food and drink when coming here.
Exchange your money into VND currency.
We hope that the post will provide you with some information about Yen Tu Mountain which is an attractive destination, isn't it? If you are attending to get to Yen Tu Mountain, Vietnam, do not hesitate to contact us via Vietnam tour package deals for more information. Let us become your partner on the trip to beloved Vietnam. Have a nice trip!