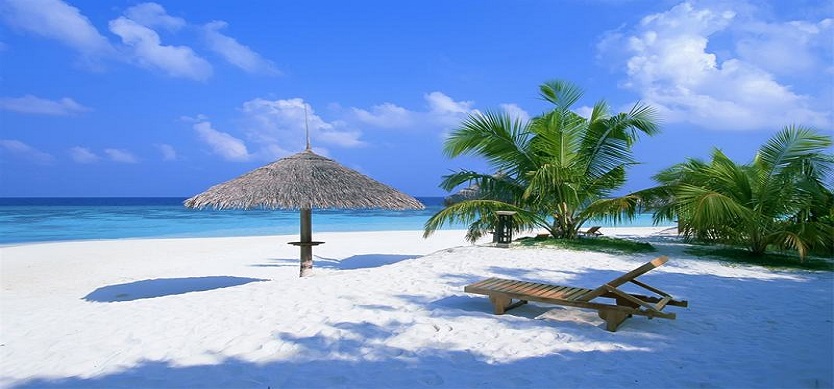 There is no doubt that Phu Quoc Island is one of the most famous tourist attractions in Vietnam that you should visit once when considering a luxury Vietnam tour. Let's us give you useful information about Phu Quoc to have a complete vacation there.
An overview about Phu Quoc
Phu Quoc Island is situated in the Gulf of Thailand which covers an area of 1320 square kilometers with the length of 48 kilometers. Located about 15 kilometers to the South of Cambodia, Phu Quoc is home to numerous stunning beaches and delicious seafood. Thanks to the creation of mountain and forest, Phu Quoc becomes an amazing tourist destination with white sand beaches and beautiful fishing villages.
Belonging the tropical monsoon climate, the weather in Phu Quoc is divided into two distinct seasons: the dry season from November to April and the rainy season from May to October. The weather is cool all year round with the average temperature is 28-degree Celsius. You can visit Phu Quoc at any time of the year but the best one is from October to March.
How to get to Phu Quoc Island
By airplane
At present, the airlines offer the flight to Phu Quoc are Vietnam Airlines, Jetstar, and Vietjet Air and they often depart from Ho Chi Minh City, Hanoi, Can Tho or Rach Gia. You should choose the one that is suitable for your schedule and book early to get the cheap price.
By bus and passenger car
Go to Mien Tay station and buy the ticket route Ho Chi Minh City - Rach Gia.
Where to stay when traveling to Phu Quoc
Resort in Phu Quoc Island
Being an attractive destination, Phu Quoc provides a wide range of hotels and resorts from budget to luxury ones.
Hiep Thoai Hotel
Address: 65 Tran Hung Dao
It's one of the best budget hotels with the convenient location. The furniture is quite good and the hotel also offers a motorbike rental service.
Galaxy Hotel
Address: 77 Tran Hung Dao
It is one of the most popular hotels in Phu Quoc with spacious rooms, swimming pool, and hearty staff.
Montana Resort
If you want to find a place with cheap price, Montana Resort is a good choice for garden and swimming pool.
Richis Beach Resort
Address: 90 Tran Hung Dao
Featuring 135 rooms, Richis Beach Resort is an ideal place to stay with large swimming pool, spa, gym and garden.
Must-see landscapes in Phu Quoc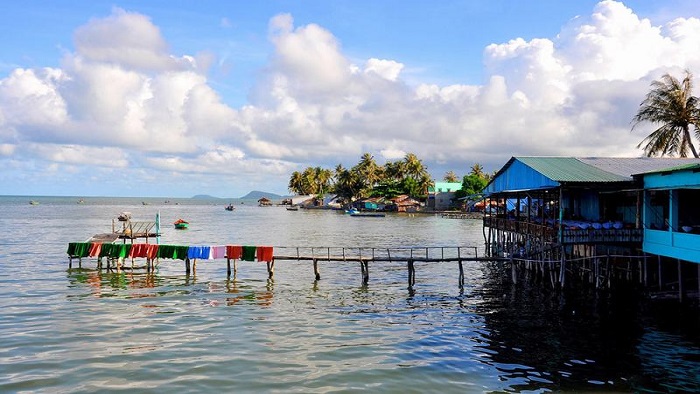 Ham Ninh fishing village
The East Phu Quoc
- Ham Ninh fishing village: It's is an ideal place to watch the sunset and sunrise. There is a lot of famous seafood sold here.
- Tranh Stream: The clear water in a green forest creates a wonderful scenery. This area is famous for Flacourtia fruit that you should try when coming there.
- Fish sauce village: Phu Quoc is well-known for fish sauce villages. Coming here, you can have the chance to learn about the process of producing the fish sauce.
The North Phu Quoc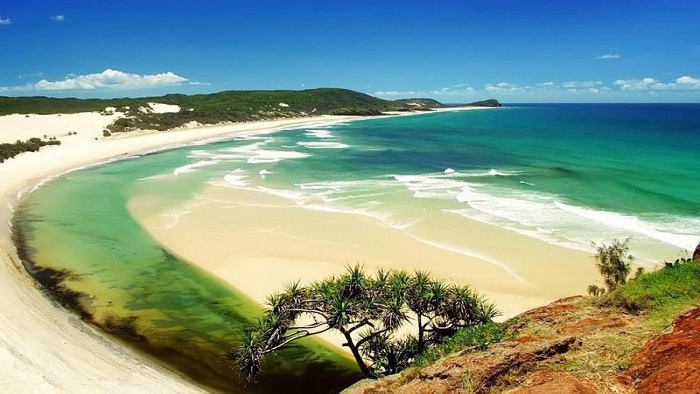 Ganh Dau Cape
- Pepper Gardens: the pepper in Phu Quoc is famous for its distinctive flavor. Visiting this place, you can see the lush green pepper gardens and capture beautiful photos.
- Phu Quoc National Park: explore the abundant flora and fauna in the forest and enjoy the fresh air.
- Ganh Dau Cape: admire the wild beauty of the land protruding to the sea, especially you can see the sea border of Cambodia from here.
The South Phu Quoc
- Phu Quoc Prison: the place to mark the heroic pages of Vietnamese history.
- Coi Nguon Museum: Visiting Coi Nguon Museum, you can learn more about the history and culture of Phu Quoc Island with numerous amazing collections of the artifact, items of pottery.
- An Thoi: the best place to see the colorful coral reefs.
- Sao Beach: This beach is famous for clear water and smooth white sand. If you're a sea lover, you shouldn't miss this place.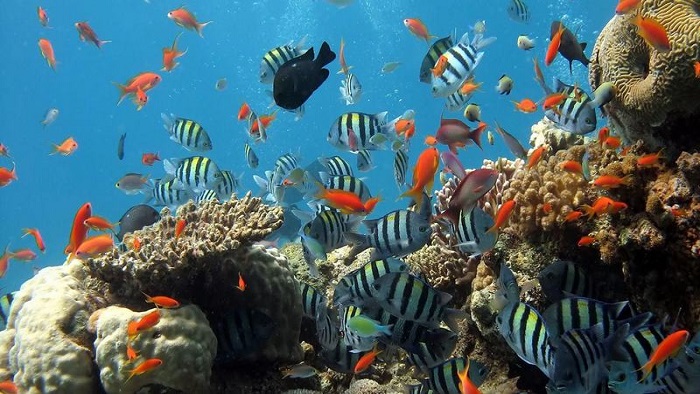 Stunning coral reef in Phu Quoc
Interesting activities in Phu Quoc Island
- Diving to see stunning coral reefs under the sea.
- Squid fishing
- Coming to the national park to experience the ecotourism and explore famous islets, Dam islet, Ngu well and Ong Doi cape.
- Vinpearl Phu Quoc: Covering an area of 170,000 square meters, Vinpearl Phu Quoc is designed uniquely with entertainment complexes: water park, music stage, aquarium, amusement park and outdoor playground.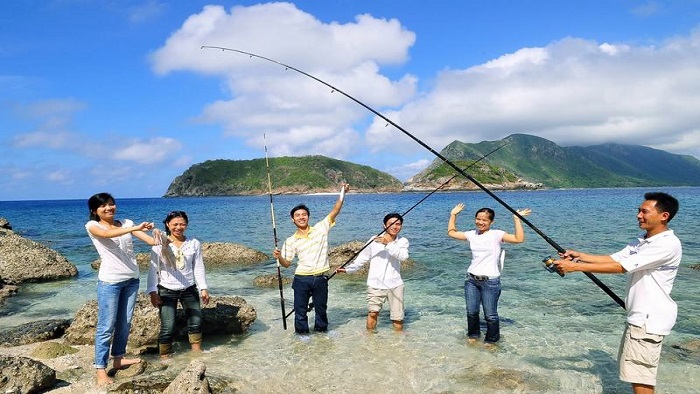 Fishing in Phu Quoc (via dulichnet)
What to buy in Phu Quoc
- Dinh Cau night market, An Thoi Market, or Duong Dong Market are famous places to buy fresh seafood, dried fish and dried squid.
- Ham Ninh fishing village: There are specialties such as algae wine, mushroom alcohol, or medicinal wine soaked in pineapple and wild berries and Ham Ninh crab.
- Visit the Coi Nguon Museum to buy souvenirs, handicrafts, jewelry made from pearls.
No matter when you travel to Phu Quoc, the pearl island will never disappoint you with beautiful landscapes, luxury resorts, fascinating things to do and amazing cuisine. For more information about Asian Vacation Tour Package, you can visit our website. Share this article if you find it useful. Thank you!