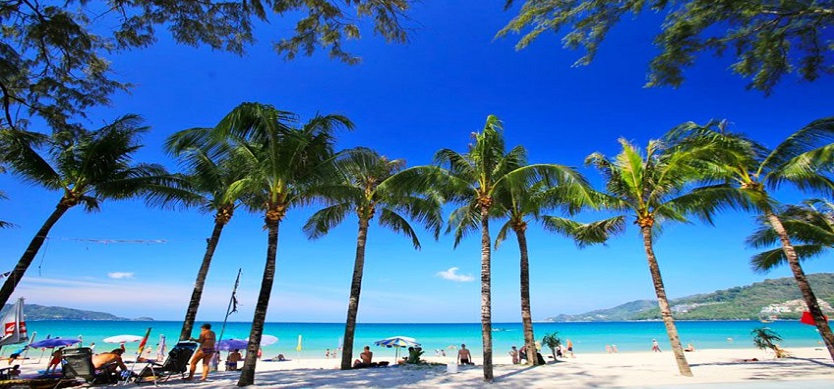 As the most famous tourist destination in Thailand, Phuket is the best choice for those who love the sea. Patong Beach (means banana in Thai) is the most gorgeous beach in Phuket which attracts millions of visitors from all over the world every year.
A brief look about Patong Beach
Stretching over three kilometers, Patong beach is considered to be the most famous beach in Phuket. This is a good place to observe everything or participate in activities such as swimming, parasailing or water motorcycling. Along Patong beach, you can find trolleys and peddlers with a variety of food, drinks, snacks and ice cream.
The best time to visit Patong beach is from November to April (during the monsoon season) when the water is calm and quiet.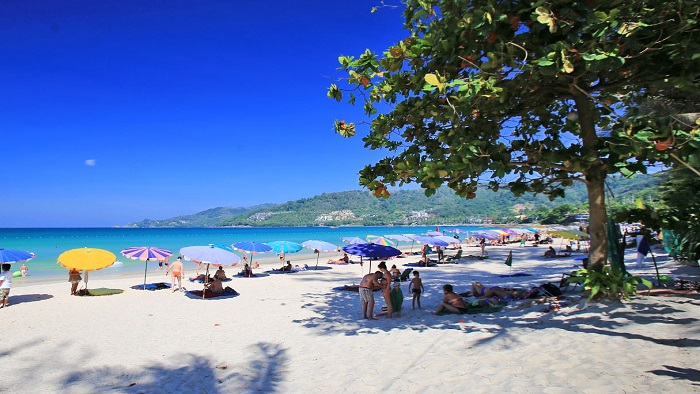 Patong Beach
Interesting activities on Patong beach
- The best spots for snorkeling are located in the north of the beach. The facilities can be hired easily.
- The Thai massage services are always available at reasonable prices.
- Patong beach is a paradise for jetski and parachuting.
- Other famous games are banana boat, surfing, and kayaking.
- Loma Park is a public park located in the northern with exciting games for kids such as horse riding and swing.
Nightlife in Patong Beach
The nightlife in Patong beach is such like a cherry – the best part on a cake which is a great choice for those who want to enjoy the relaxing time on a tropical beach. Patong is the centre of Phuket with a lot of restaurants, shops and entertainment areas at night.
Explore Bangla Road
Bangla Road becomes busier when the night falls. The road stops vehicles and turns into a nightclub with neon lights stretching up to 400 meters, full of music and cheap beer. The evening here is always crowded but fun and bustling. You can walk along the street to see street shows and great clubs. If you're looking for an exciting night out in Phuket, Bangla Road is your best choice.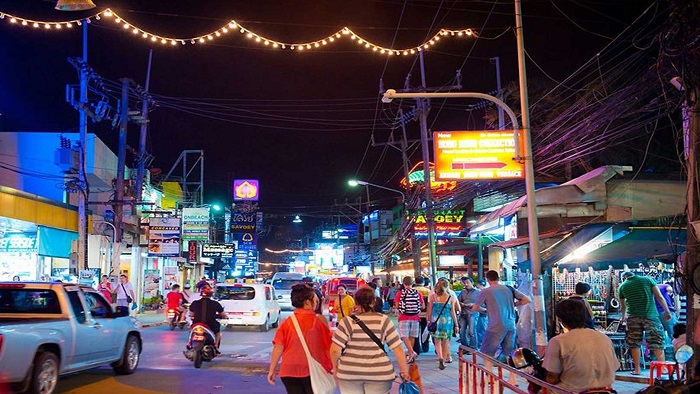 Nightlife in Bangla Road
Best nightclubs
Tiger Disco: A must-come club in Patong beach. This massive complex consists of three floors with over 5,000 square meters. The building is decorated with big concrete tigers overlooking the street from the 2nd floor.
Seduction Complex: is the largest nightlife spot in Patong beach. Located right in the middle of Phuket's most popular resort, the Seduction Complex has more than five modern and fashionable shopping malls that can accommodate up to 3,000 guests.
Illuzion Show & Discotheque: consists of 3 main areas: the dancing floor, VIP lounge, and big balcony. With the superb EDM and hip-hop music played on the first-class sound system, it deserves to be one of the most popular nightclubs in Phuket.
Paradise Beach Club Phuket: a large party venue located on Paradise beach in a secluded bay, just a short distance from Patong beach. There are shops, restaurants, entertainment activities, and big beach parties.
Must-see performances in Patong Beach
Simon Cabaret
This show is the combination of excellent choreography and great costumes. The performances are constantly changed and the stage is beautifully decorated. The transsexuals and transvestites are talented people who dance and sing along with the great performances that will bring you an unforgettable time.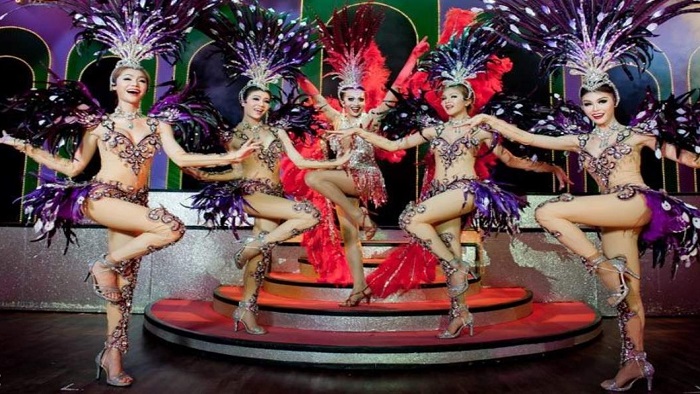 The Simon Cabaret Show
Boxing Bangla Station
It is the newest Muay Thai arena on Patong Beach. Originally, Bangla Boxing was built on Bangla Road in a smaller scale and it retained the old name after moving to a new location opposite Banzaan Market on Sai Kor Street. VIP seats are placed in the first row around the floor and the tickets for each seat are 2,500 baht. The matches start at 9m pm and last until midnight.
Top hotels in Patong Beach
Because Phuket is Thailand's most famous holiday resort, the hotels here are very affordable. You can find budget hotels ranging from $10-$15 to the luxury ones.
- The Nap Patong: a beautiful hotel located in the centre. The hotel provides all the modern facilities to meet your needs. It's just 5-minute walk to Patong beach.
- La Flora: a new hotel located in the center of Patong, right on the beach with many sea view rooms. Just open the door and you can see the beach right in front of you.
- If you can pay more, you can stay at Amari Coral Beach Resort. It's still located in the center but you can get yourself out of the bustling and noisy beach. The rooms are well-equipped with a spectacular view. The pool is wonderful.
- Yorkshire Hotel and Spa: small but friendly and convenient to stay after exploring the nightlife, shopping, and dining. The price is reasonable.
- Burasari Resort: located right south of downtown Patong, near the Holiday Inn, just a few minute walks to the beach. Burasari offers guestrooms and deluxe rooms in the "Mood Suites" collection such as Smooth Whiskey, Tropical Dream and Blue Breeze.
Hope that with our guides above, your upcoming trip to Patong beach would be easier and more convenient. If you concern more about Asia Vacation Tours, please visit our website. Share this article with others if you find it useful. Thank you!