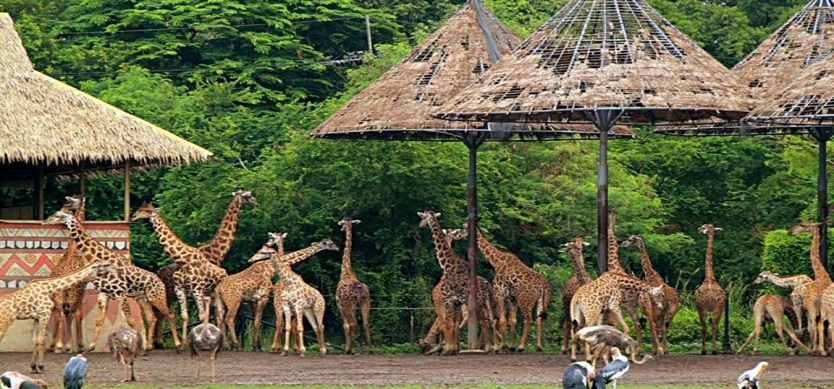 About 40 kilometers from Bangkok, Safari World is one of the most favorite tourist destinations in Thailand due to a huge number of rare animals from many places around the world and attractive daily shows. Immersing in nature and sharing exciting moments with your family, Safari World is the spot that you should not miss in your Asia tours.
How to get there from Bangkok
Taxi
The easiest way is to take a taxi from Bangkok center to Safari World with the price ranging from 600 – 700 baht.
BTS and bus
Although there are no direct buses from Bangkok to Safari World, traveling by this transport can help you save a lot of money.
Minibus
The minibus is a very popular means of transportation in Bangkok. This minivan does not have the number, so you have to see the sign on the vehicle or ask the driver. The minivan will take you to the Fashion Island Mall. From here, you can catch a taxi for around one hundred baht.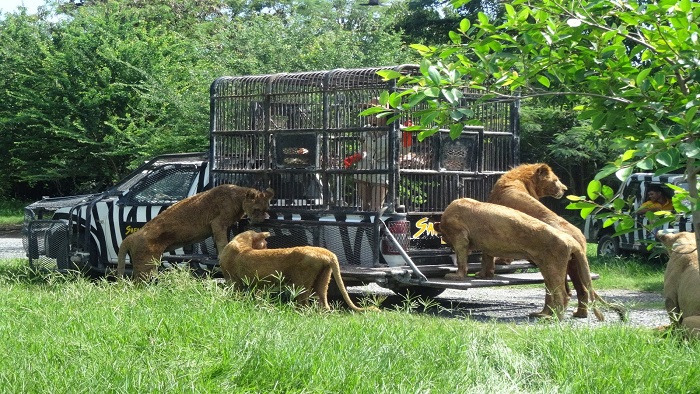 Safari World Bangkok
The general information of Safari World
The open zoo Safari Park
The gateway to Safari is a huge zoo which is home to hundreds of animals from all over the world (more than 75 species of mammals, 300 species of birds from Asia and Africa and endemic species). Here you can participate in animal feeding taking place around 10 am, so you should visit Safari Park first. Because Safari Park is very large, you will need to hire a bus with a guide. You can book this service at the information counter (right next to the ticket area).

With a length of about 8 kilometers, you will have the opportunity to see a variety of animals such as zebras, tigers, gazelles, deer, and countless birds. This journey will take about 45 minutes. Around half past 9 and ten, there is a show of tiger feeding.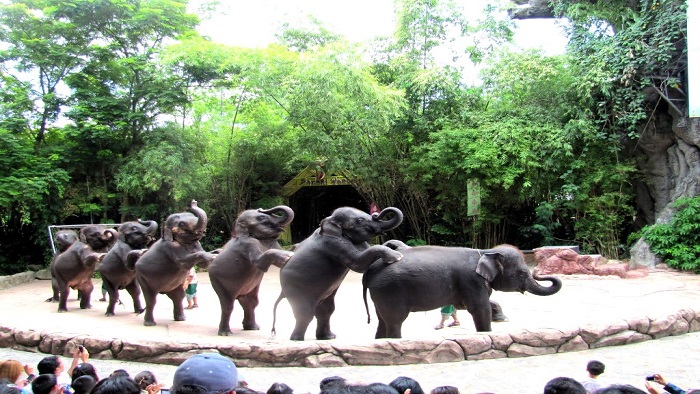 The elephant show in Safari
Marine Park
Marine Park is a favorite place for kids with various shows of many animals lasting from Jungle Walk area. Every day, this park has 7 entertainment shows, most of which take place in the afternoon.
Ourang Utan
This is the show of monkeys. They will fight on a stage like a boxing ring. However, this show is not violent because the monkeys will make fun for you. After the performances, you can take photos with these boxers.
Sea lion show
This show takes place around 11 am in which the sea lions play with coaches. The show is suitable if you go with family or kids.
Elephant show and cowboy show
These shows take place at the same time. The elephant show is composed of drawings, queuing, dancing, playing football, basketball, and even going through monkey bridges.
The cowboy show designed in American Western style with a small town scene with shops and pubs. The guys and girls dressed as cowboys and Indians will show you the gunfights. It is like you back to the United States a few dozen years ago.
Dolphin show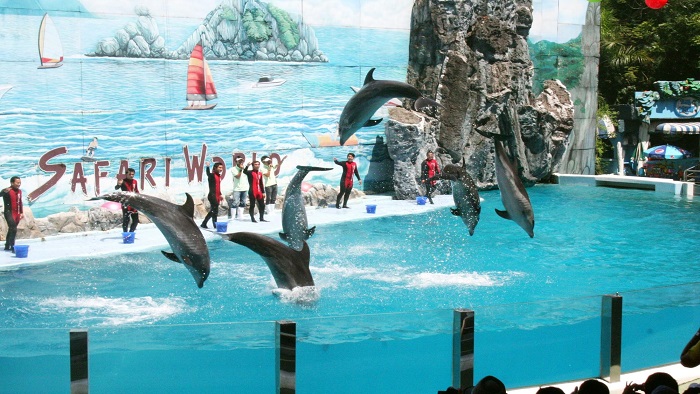 The dolphin show
It is the second popular show in Safari World. You should come here early to find a suitable seat. The dolphin show is quite magnificent with extremely intelligent actors from the ocean. You will watch them dance, swing in the air or jump over the ring. Whether you go alone or with family, this show is worth seeing.
Spy War
This is the most special show in Safari World. Designed like a Hollywood spy movie, you can see a series of canoe racing, shooting, and explosions.
Bird show
The last show of the day at Safari is the Bird show. As the catwalk of the most colorful representatives in the park, you will watch the parrots cycling and acting or the dancing of gorgeous peacocks.
What to eat in Safari World Bangkok
You have two options when buying tickets at Safari World Bangkok. One is that tickets include the lunch buffet with international dishes. The second one is to prepare your own lunch. However, you're not allowed to bring food here. In some restaurants, the buffet service is available from 11 am to 2 pm.
Other highlights in Safari World

The Safari World
Jungle Cruise River
Similar to the river zoo in Singapore, when joining the Jungle Cruise River is sailing through jungle simulation of Africa and Asia. This game with special effects will make you feel more adventurous.
Jungle Walk
This area simulates the jungle with many animals living in the natural environment. You should pay attention to the signs in order to not get lost.
Such an interesting place that is worth spending your vacation in Thailand. If you concern about traveling to Asia, do not hesitate to visit our website for further information. Hope that this article is useful for you. Have a nice trip!