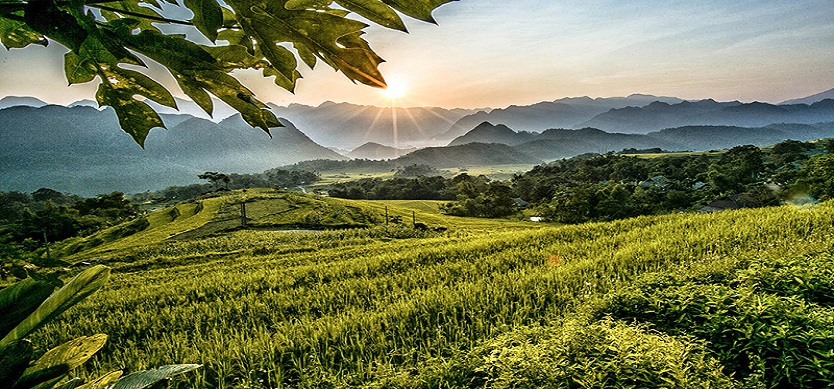 Where to go on Independence Day: Explore the dreaming and poetic nature in Pu Luong Nature Reserve
Feeling peaceful and harmonious with the relaxing natural space and exploring the majestic landscape, the unique culture of people are all you can experience in Pu Luong.
Pu Luong Nature Reserve is located in the northwest of Thanh Hoa province with an area of 17,662 hectares, which mostly is primary forest. Pu Luong is home to the Muong and Thai ethnic groups. The name Pu Luong in Thai language means the highest peak. It also owns the green forests, beautiful streams and waterfalls, creating the majestic and wild scene of mountains and forests.
In addition, Pu Luong is the largest lowland limestone forest in the North with three main types: lowland forest, limestone forest, bamboo and shrub vegetation. The Pu Luong peak in the Nature Reserve is 1,700 meters high, is a trekking point attracting many explorers. Especially, Pu Luong in the season of yellow ripe rice is a unique specialty that everyone should admire once in a Vietnam package tour on Independence Day.
When to travel
The best time to go to Pu Luong is at the end of May and June, the beginning of the ripe rice season. The terraced rice fields wear a green layer and there are also fields of a mixture of green and yellow. Coming here, tourists admire the peaceful scene of the golden fields stretching across the forest. Despite summer, Pu Luong has many tropical forests and few people, so the weather are very airy, cool, and pleasant.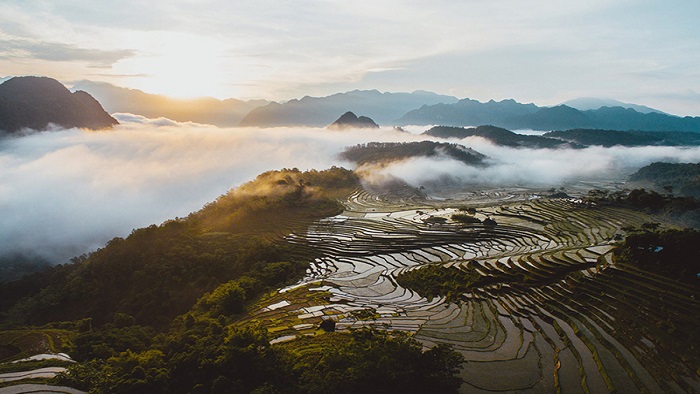 The dreaming scenery in Pu Luong (kenh14.vn)
Another ideal time to visit Pu Luong is September and October. At this time, all the hillside terraced fields turn to brilliant yellow, bringing Pu Luong a wealth of beauty.
How to travel
The road through and straight to the "green paradise" Pu Luong is the Highway 15C. If departing from Hanoi or other Northern provinces, travelers go to Lac village, Mai Chau and continue to drive along Co Luong, Dong Dieng (Mai Chau). After that, let's turn to Highway 15C and run along the Horse river (Thanh Hoa) to Pu Luong Nature Reserve.
What to travel
For many explorers, conquering Pu Luong is the most attractive thing here. Renting a motorbike from local people (costing VND 300,000/day), tourists can take a scenic drive and come to interesting places.
Hieu village waterfall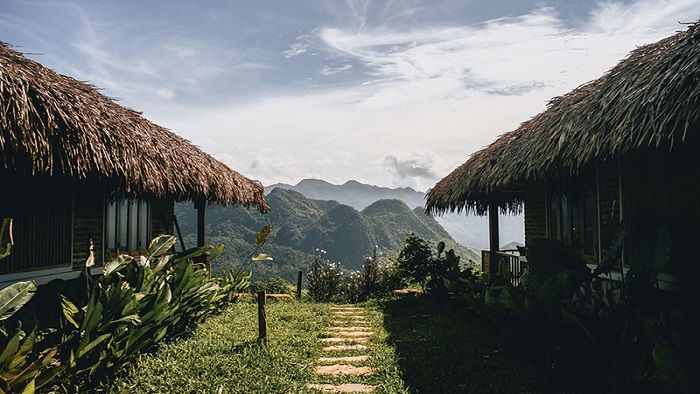 Pu Luong Retreat resort (kenh14.vn)
Late June and October are the most beautiful time in Hieu village. Travelers will be surprised with the 25-kilometer-long road from Canh Nang town to Hieu village. At the foot of the waterfall, there are many natural swimming pools with clear water that is cool in summer and warm in winter.
Kho Muong terraced rice fields
To see the full beauty of the Pu Luong rice season, let's consult indigenous people and consider site selection. Departing from Hang village, explorers can easily move to Kho Muong village. If traveling from Hin village, visitors should go to Son, Ba, and Muoi village. These are the places having the most beautiful terraced rice fields.
Pu Luong forest trekking tour
If tourists depart from Kho Muong, they can discover the life, culture, and customs of local people through Pon, Thanh Cong, Cao Hoong, and Kit villages.
Otherwise, if following the trail of Kho Muong - Uoi - Pho Doan, visitors will come to Quanh village. Experiencing a peaceful, simple, and slow life here, everyone has a peaceful feeling as time is condensing.
Pho Don market fair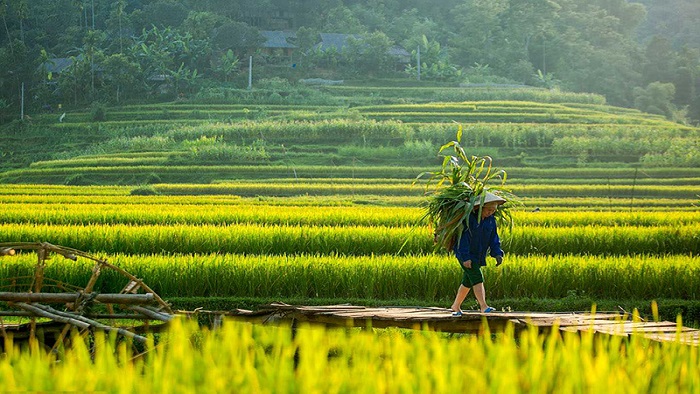 The rustic life of local people in Pu Luong, Thanh Hoa
Pho Don market fair takes place on Thursday or Sunday, where tourists not only experience the highland market but also buy souvenirs, upland products, and featured specialties. In the evening, travelers can take part in campfire activity, dance, and watch the Khap Thai dance in Thai villages in Pu Luong.
Pu Luong specialties
The most famous Vietnamese food in Pu Luong is Co Lung duck. Duck meat is delicious, soft, and aromatic, baked with charcoal. The price is VND 450,000 for a duck, suitable for 3-4 people to eat. Besides, travelers can enjoy other tasty Thai specialties such as hill chicken, roast duck, boar, sour bamboo shoots, bitter bamboo shoots, bamboo tube rice, and banana flower salad, etc.
Where to stay
Stilt houses
Traveling to Pu Luong, tourists can stay at the stilt houses at a price of VND 100,000-150,000/person/night.
Pu Luong Retreat
Pu Luong Retreat meets the criteria of environmental protection and harmony with nature that everything is made of wood, bamboo, palm, etc, people use less plastic bags and save electricity by using dark lights. Staff is very courteous, friendly, and enthusiastic. The biggest advantages of Pu Luong Retreat are the high location and a pool overlooking the golden rice fields. It is also a place of "virtual life" for the young to check in. In addition, the pool's water control system provides warm water so guests can comfortably rest and swim when it rains.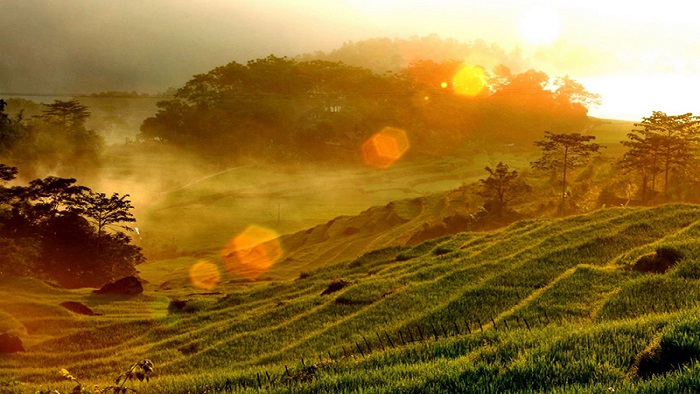 A must-go destination in Vietnam
For other options, tourists can stay in Ban Huou Garden Lodge or Puluong Tree House which are also convenient and beautiful.
Instead of traveling to the modern and entertaining cities, let's go to Pu Luong on the Independence Day. The way to the best place to go in Vietnam is quite difficult, in return, you will be stunned by the rich nature and relaxing, airy atmosphere here. If you like this place, don't hesitate to like and share this with your friends to make a trekking tour in Pu Luong, Thanh Hoa. Thank you and hope you will enjoy your trip!