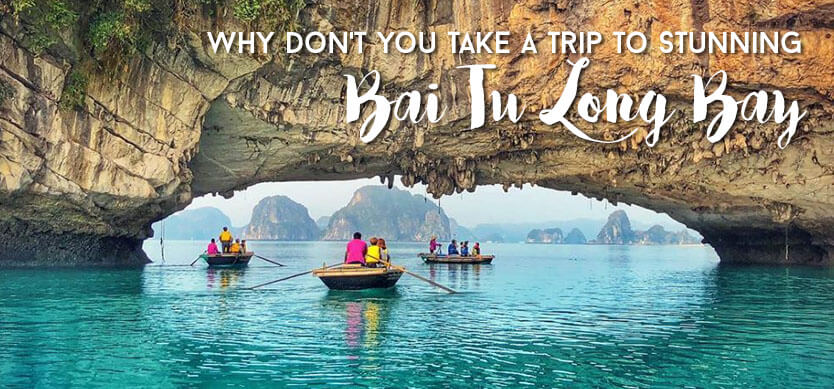 Along with the well-known Halong Bay, Bai Tu Long Bay is one of the natural wonders of the world. The charming beauty of the bay was voted as the 5 most wonderful destination in Southeast Asia in 2006 by Gecko Travel Company. In your tours to Vietnam today, let's follow us to explore this gorgeous bay!
A brief look about Bai Tu Long Bay
Bai Tu Long is located in the Gulf of Tonkin in the Northeast of Vietnam. It consists of hundreds of large and small islands, many of which are large and have residents. such as Van Don district, Quan Lan, Ban Sen, Ngoc Vung and the coastal areas of Ben Do, Cua Ong. The people here live mainly on fishing and growing sea products.
According to the statistics, Bai Tu Long Bay has hundreds of limestone islands with many famous places such as Bai Tho Mountain, Con Coc Islet, Hon Ong Hill, Turtle Island, Dam Oan, God Face islet, Thien Canh Son cave, Tam Cung cave, and Me Cung cave. The island system undulating high above the water with hundreds of kilometers of coastline creates a spectacular but equally romantic scenery.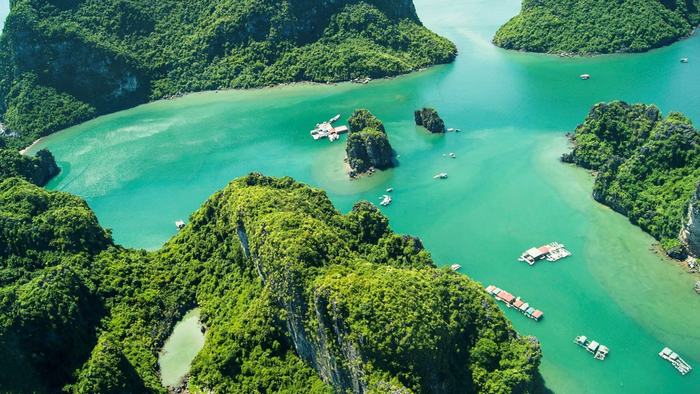 Bai Tu Long National Park
The biodiversity of Bai Tu Long Bay
The rich biodiversity of Bai Tu Long includes typical ecosystems such as mangrove ecosystems, coral reef ecosystems, and tropical forest ecosystems. Survey results show that the diversity of marine animals includes 391 species. Most of the marine species are ones of high economic value and great scientific significance. The presence of ephemeral larvae and juveniles reflects the closed cycle of a marine life cycle. The existence of these two coexistence forms is due to the marine ecosystems of the Bai Tu Long Bay, where they distribute, produce and store life. In particular, there are 51 species of zooplankton,132 species of bottom animals, 19 species of fish, 79 species of coral (including 17 species listed in the Red book Vietnam). There are many rare species such as abalone, sea cucumber, mud crayfish, bee mussels, also known as Sirenia, have introduced rare species that need protection. With special values of landscape, geomorphology, biodiversity, along with the potential of cultural relics of Van Don is one of the ancient cultural cradles of Bai Tu Long that needs to be protected.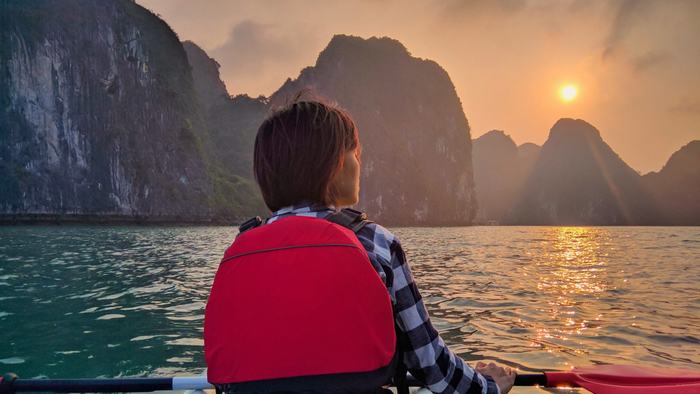 Bai Tu Long Bay in the sunset
The legend about Bai Tu Long Bay
It is said that when Vietnam was invaded by foreign invaders when it was just founded. Jade Emperor sent a Dragon mother and baby dragons down the world to help the Vietnamese fight the enemy. When the enemy ships came out from the sea, the Dragon had infiltrated numerous jewels and turned into thousands of rocks on the sea, creating a solid wall to block the advance of enemy ships. The crew of the invaders was fast-paced, suddenly blocked to crash into the rocky islands or crash into each other. After the war, the mother dragon and baby dragon did not return to heaven but stayed in the world where the battle took place. The position of mother Dragon down was Halong Bay and the place where Dragon babies down were Bai Tu Long.
When is the suitable time to visit Bai Tu Long
The climate in Bai Tu Long is divided into two distinct seasons: the hot and wet summer from April to October and the cold and dry winter from November to March. The average temperature of the year ranges from 15-degree Celsius to 25-degree Celsius.
The domestic tourists visit Bai Tu Long in the time March-May and August - October. International often come here in winter. You should not visit Bai Tu Long in June and July because it is the time when storms often occur.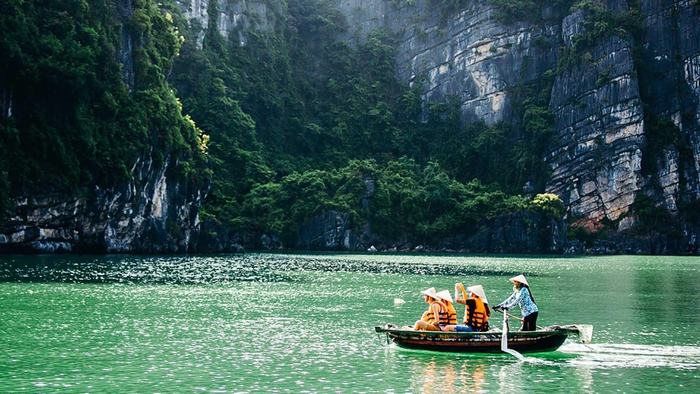 Explore Bai Tu Long Bay by boat
What to explore in Bai Tu Long
The highlight of Bai Tu Long tourism is the marine ecotourism community located just about 60 kilometers from Bai Chay beach. Coming here, you will be surprised by the long white smooth beach stretching 2 kilometers. This is one of the most beautiful beaches in North Vietnam.
You can also visit temples and pagodas built in the Ly dynasty to know more about people here.
Another destination that you should not miss is the Bai Tu Long National Park - a rich and diverse biological environment. You can admire the wild beauty of rocky islands such as Ba Mun, Big Tra Ngo, Small Tra Ngo, Sau Nam, Dong Ma, and Chinh islet. There are limestone ranges surrounding vast valleys and making up lagoons that create the rich habitat of many different plant and animal species of which Bat Cave located in Cat Lim, Tra Ngo island is notable.
Other places you should visit once are Thong Thien Cave, Phat Co island, Cua Ong temple, Van Hoa Port or Ban Sen island.
With the amazing scenery, Bai Tu Long would be the ideal place for your upcoming trip in Vietnam tour package. Hope that the above information is useful for you. You can visit our website for more information. Have a nice trip!