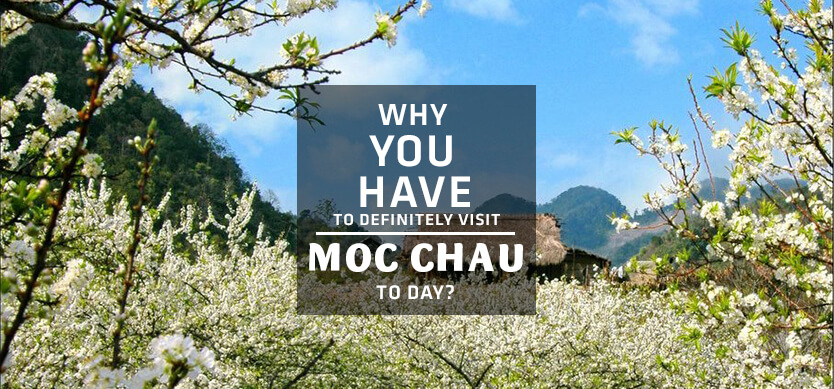 Have you ever gone to beloved Vietnam? Vietnam is a small but very beautiful country. Coming to Vietnam, tourists will have a chance to explore many excellent attractions and things. In this post, we want to introduce about Moc Chau - one of the best destinations in Vietnam.
About Moc Chau
Moc Chau is a district of Son La province, Vietnam. It is located about 180 km northwest of Hanoi by national highway 6. It is bordered by Phu Yen district in the north, Bac Yen district and Yen Chau district in the northwest, Laos in the west, Son La province in the southeast, and Thanh Hoa province in the south.
Moc Chau district has Moc Chau plateau lying in the height of 1050 according to the sea level with 80 km in length and 25 km in width. When coming to Moc Chau plateau, tourists can admire the image of vast grasslands together with green tea hills. Moc Chau has the temperate climate which is very suitable for traveling. The annual average temperature here is about 18-20oC with a cold and dry winter and a rainy summer without storms.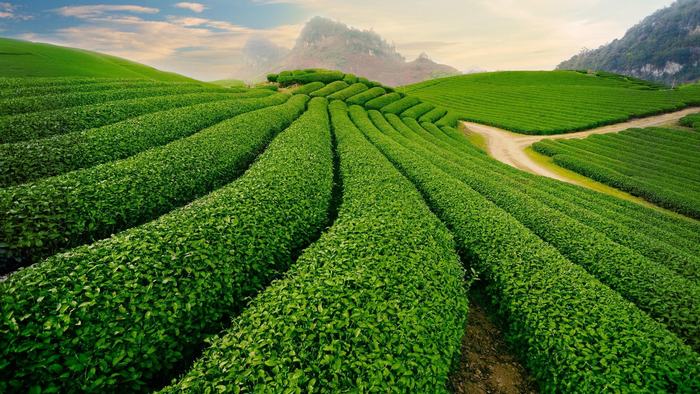 The beauty of green tea hills
The ideal time to visit Moc Chau
Together with Vietnam tour package, we want to suggest the best time to travel to Moc Chau below.
White plum blossom season: it lasts for 2-3 weeks from late January to mid-February (Lunar New Year). It is the most ideal time for tourists to come and visit Moc Chau. Besides, the most beautiful places to admire the wonderful beauty of the white plum blossom are Pine forest of Ban Ang village, Ba Khe, Long Luong, and Thong Cuong.
Ban flower season and Het Cha festival: Immediately after the plum blossom season, it is Ban flower season. From March to April, Moc Chau is covered by the color - violet, which is very splendid, romantic, and gentle. Besides, it is also Het Cha festival held annually from March 23 to 26 of the Thai people.
This is a festival to express the solidarity of the local people in the village in the spring and also to express respect to the doctors who cured the local people when they get sick.
In addition, from the end of November to mid-December will be white mustard flower season and tree marigold flower season. At this time, Moc Chau is changed to a pure new shirt when mountains, valleys, and streets ... are covered with a subtle white with the highlight of yellow of tree marigold flowers. You will not be able to encapsulate that scene in the word "landscape" because it is a marvelous picture created from marvelous nature.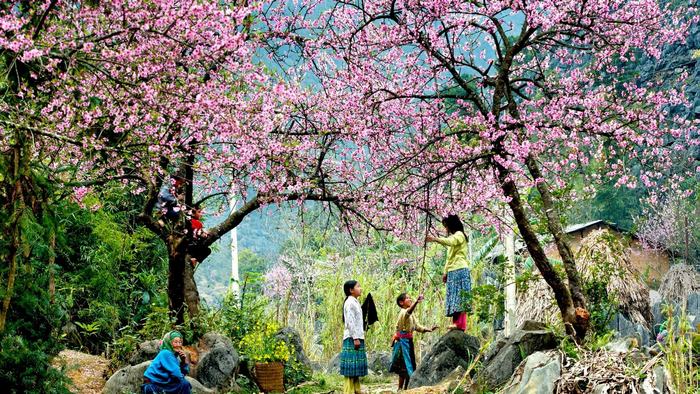 Spring in Moc Chau
Where to visit in Moc Chau?
Heart-shaped tea hill (Tan Lap commune): Tan Lap commune is famous for the best tea hills in Moc Chau. The green tea hills in Tan Lap stretch out of the view of the eyes. They have a natural beauty made by the hands of tea farmers here. The heart-shaped tea hill (Moc Suong tea hill) – the most beautiful tea hill of Tan Lap commune is the place for couples to go and save the best moments together.
Na Ka plum valley: located on the road to Tan Lap commune, 16 km far from Moc Chau farm town, Na Ka plum valley is the most wonderful plum valley in Moc Chau. It is considered the fairyland, especially in the spring.
From above, the valley is the wonderful picture with shimmering white stretching endlessly. Coming to Na Ka from January to February, tourists will have a chance to admire the beauty of the white valley. Moreover, tourists can pick plums and enjoy them in April and May.
Thung Cuong (Thong Cuong) village: it is a village of the Mong people located between Dong Sang commune (Moc Chau) and Xuan Nha commune (Van Ho). The pathway to Thung Cuong village is vast white mustard flower valleys planted densely. This is also one of the beautiful flower viewing spots where young people love to come here to take beautiful photos.
Where to stay in Moc Chau?
There are a lot of hotels and resting houses for tourists to stay overnight in Moc Chau. Together with best tours in Vietnam, we want to introduce some suitable places for you below.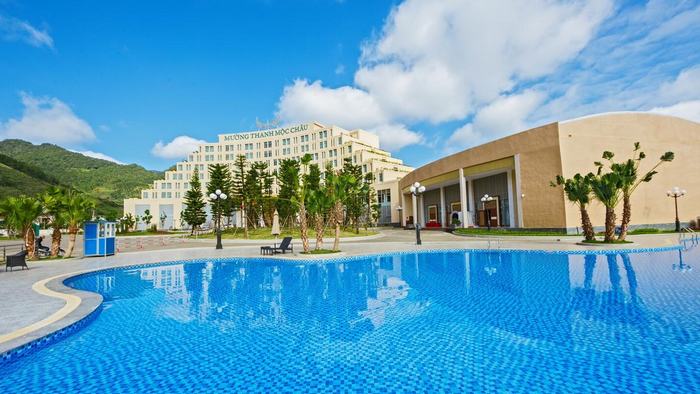 Muong Thanh Luxury Moc Chau
Muong Thanh luxury Moc Chau: It is located on Highway 6 - the arterial route near the center of Moc Chau town to Tay Bac (Northwest) region. The hotel is in a convenient location for tourists to explore the famous attractions of Moc Chau such as heart-shaped tea hill, happy land, pine forest in Ban Ang village…
Thao Nguyen Resort - Moc Chau, Son La: It is located in Moc Chau farm town with a total area of 6 hectares. The 100-room resort is villas located on the hillside with the luxurious design offering panoramic views of the fresh surrounding landscape.
Moc Chau Arena Village: It is built on a green hill in Chieng Di village, Moc Chau farm town, 5 km from the center of town. It has a convenient location to the famous tourist spots of Moc Chau such as Bat cave, Dai Yem waterfall, pine forest of Ban Ang village, Ngu Dong Ban On (On village's 5 caves), heart-shaped tea hill, orchid garden, dairy farms...
We hope that the post will provide you with some information about Moc Chau which is an interesting destination, isn't it? If you are attending to get to Moc Chau, Vietnam, do not hesitate to contact us for more information about Moc Chau. Let us become your partner on the trip to beloved Moc Chau. Have a nice trip!